Welcome to the CLD Standards Council for Scotland
The Standards Council for Community Learning and Development for Scotland is the body responsible for the registration of CLD practitioners, the approval of training courses, and the continuing professional development of the sector workforce.
Shape your Future !  CLD Standards Council Conference
Conference will be held on Wednesday 29 March 2017 in Glasgow.
Save the date in your diary and watch out for booking and programme details.
Community Links Scotland awarded Standards Council Standards Mark
Following a strong submission to the CLD Standards council Approval Panel we are pleased to award a Standards Council Standards Mark to Community Links Scotland recognising the quality of CLD learning they provide. Read more ...

Short Survey on Scottish Credit and Qualifications Framework (SCQF)
A short survey with the aim to understand people's awareness and use of the SCQF and the impact it is having. Survey closes 9 December. Further information
Nazarene Theological College programme approved
Following a joint approval visit with CLD Standards Council and NYA (National Youth Agency) England we are pleased to announce that the Nazarene Theological College have obtained a 5 year approval for the BA(Hons) Theology (Youth and Community). This programme is delivered in Scotland by Scottish School of Christian Mission. Further information ...
Annual report for 2015-16
Report giving an overview of the work, challenges and successes of the CLD Standards Council and its constituent parts over the course of the last year is now available.
New Framework agreement 2016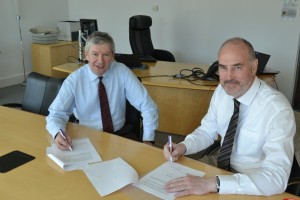 The CLD Standards Council has a new framework agreement with Education Scotland. Signed by Dr Bill Maxwell, Chief Executive of Education Scotland and Ashley Pringle, Chair of the CLD Standards Council, the new framework agreement sets out the strategic goals, roles and responsibilities of both organisations whilst accounting for operational requirements. Read the full framework agreement.
Previous highlights -
New Strategy and Resources for Professional Development available