For providers
Why go for Approval?
There are clear benefits in gaining professional approval for your learning programme. Approval by the CLD Standards Council can help with:
Promotion of your learning programme and your organisation to prospective practitioners wishing to undertake professional development
Aligning your programme with the CLD Competences
Preparing practitioners for working in the CLD sector by helping them to progress in their career
Clearly demonstrating that your programme has been written to align with CLD values and principles
Ensuring your learning programme matches the relevant national occupational standards
Different approval routes
The CLD Standards Council, in collaboration with the field, has created a suite of approval routes to address the demand for quality assurance at all levels of learning.
The Developmental Approval route is for providers offering learning opportunities below degree level that have already been verified by the SQA. The process is paper based: providers are asked to submit their SQA report alongside a brief CLD focused submission; these papers are then shared with the panel electronically and discussed in teleconference before a decision is agreed.
The Professional Approval route is for providers offering learning opportunities at degree and post graduate level. The process involves a significant written submission followed by a panel visit to the provider.
The Standards Council Standards Mark has been developed to recognise the quality of CLD learning opportunities provided to CLD staff by their employer. The Standards Mark looks at the whole range of learning opportunities offered, not one specific programme, as well as the learning culture of the organisation.
Which route is for me?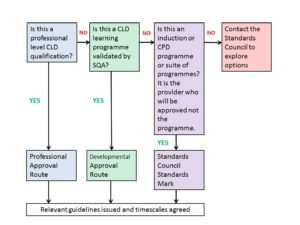 Click above for a full-sized view.
How is approval done
Further advice on the process of approval for each route is available –