Professional Learning and Development Review Process
Everyone needs Professional Learning and development.
The requirement to undertake professional learning and development is a key requirement of registration for Registered or Associate members of the CLD Standards Council.
The evidence and verification requirement in the member registration renewal process is based on an action review cycle.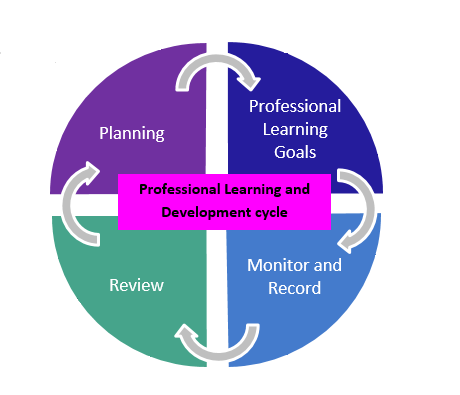 The 4 quadrants of the model are intended to be in line with the workplace planning and review system that CLD practitioners may operate within their work setting and therefore be complementary and helpful with respect to enabling a focus on professional learning and development as well as the occupational requirements to be met.
Download the  guide to the process: PLD Review Process
A few key points:
The CLD Standards Council is not requiring members to use a specific method of recording professional learning and reviews – Members can use their employers PL or PR systems See detailed advice on recording PL.
The amount of Professional Learning you are required to do is pro rata based on the average number of hours of CLD work you undertake per week: – e.g. if you work full time 35 hours per week across the year you are required to have undertaken a minimum of 35 hours professional learning per year, or if you do on average 15 hours per week you would be required to do 15 hours Professional learning per year.
If you do not have any system for recording Professional Learning the CLD Standards Council is providing template forms that could be used.
Additional information and resources:
This planning guide has been extracted for ease of use when planning your professional learning :
Template forms for recording Professional Learning and Development
You probably also have a lot of questions – please consult the Guidance FAQ's