Establishment of the Council
The development of a national body for CLD was a commitment made in the Scottish Executive's report, Empowered to Practice (2003). This considered the future of CLD training in Scotland.
In June 2004 a Short Life Task Group was convened to advise Ministers about establishing a practitioner-led body with responsibility for endorsement and accreditation of training, consideration of a model for registration for CLD practitioners and development of a model of supported induction and continuing professional development (CPD). Its recommendations can be found in   Strengthening Standards: Improving the Quality of Community Learning and Development Service Delivery(2007).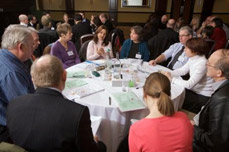 Ministers agreed that the CLD Standards Council should be put in place, building on the work of CeVe Scotland and with the additional remit of exploring registration for practitioners and putting in place a supported induction and CPD structure for the field.
An interim structure was put in place, with the remit of presenting a sustainable model to Scottish Ministers.
The interim Standards Council presented its proposals in February 2008, and as a result the Cabinet Secretary for Education and Lifelong Learning directed the CLD Standards Council to:
Deliver a professional approvals structure for qualifications, courses and development opportunities for everyone involved in CLD
Consider and establish a registration system available to practitioners delivering and active in CLD practice
Develop and establish a model of supported induction, CPD and training opportunities
Recruitment to the first CLD Standards Council was completed in December 2008.