Staff Team
The work of the Standards Council is supported by a dedicated staff team based in Glasgow.
Director of CLD Standards Council
Dr Marion Allison
Marion has over 20 years' experience in the sector as a Youth Work Manager, Associate Assessor for HMI and also lectured on the BA/BA(HONS) Community Education Course at the University of the West of Scotland. Her doctoral research focuses on young people, entrepreneurship and social networks.
In addition to Marion, the CLD Standards Council team is:
Susie Bisset: Approvals Development Officer
Susie has spent the last seven happy years with CLD Standards Council in her role as Approval Development Officer. She has built on the knowledge from her role as Business Technical Trainer within Insurance for 21 years to interpret and support the needs of the approval process and the related work of the Approval Committee and wider CLD Standards Council for Scotland. Susie took time out between roles to work in South Africa and Uganda where she still has contact with the local community in Kabale.
Kirsty Gemmell: Members' Services Development Officer
Kirsty is the Members' Services Development Officer responsible for supporting the Professional Learning Committee.  Kirsty joined the team in January 2017 after having spent her career primarily focussing on Adult Learning.  As well as being passionate about the impact CLD makes on social justice, Kirsty enjoys getting stuck into quality assurance and management information activities – she's currently seeking treatment for this!  You'll mostly find her at a CLDSC information stall, on her soapbox or tweeting furiously about how great CLD across Scotland is.
Lorna Renton: Registration Officer / Technical Project Manager
Lorna took up post in April 2016 and is responsible for the Registration system and develops the work of the Registration Committee. Lorna supports communications through the website and  bulletin, and is also responsible for content and usage development of the i-develop platform.
Ruth Washbrook: Business Manager
Ruth joined the team as Business Manager in July 2021 from Scottish Government where she worked across the Enterprise Sponsorship and Community Wealth Building Teams. Ruth is passionate about CLD and her previous roles have included business management, development of community projects and learning and outreach work for the National Library of Scotland's Moving Image Archive. Ruth's enthusiasm for learning extends to her personal development as she recently completed a master's degree in history.
Grant Garrett: Corporate Performance Officer
Grant took up post in September 2021 as Corporate Performance Officer. Previously, Grant has undertaken project officer roles at North Ayrshire Council and Skills Development Scotland. Grant has a passion for carrying out research and evaluation focused work.
Robbie Crow: Development Officer Professional Learning (6 month temporary post)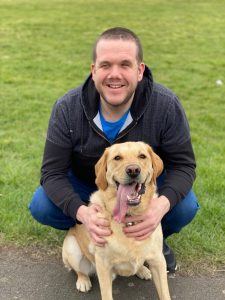 Robbie joined the team from the CLD policy unit within Scottish Government in April 2022 and brings his golden Labrador Retriever cross guide dog, Yogi, with him. Before working in CLD policy in Scottish Government he worked in employability; and previous to Scottish Government, Robbie worked across the UK third sector, working for disabled people's organisations, youth work and disability rights charities, in the outdoor learning industry, and in the NHS. Robbie's interest in CLD began in the youth work space and has developed from there.