Framework Agreements
Framework agreement between CLD Standards Council and Education Scotland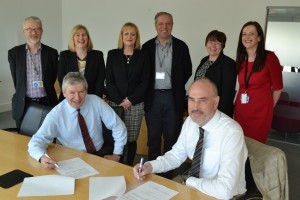 This framework agreement was put in place in April 2016 marking a new stage in the relationship between Education Scotland and the CLD Standards Council. Signed by Dr Bill Maxwell, Chief Executive of Education Scotland and Ashley Pringle, Chair of the CLD Standards Council, the framework agreement sets out the strategic goals, roles and responsibilities of both organisations whilst accounting for operational requirements.
One immediate positive off-shoot was an agreement with HMIe. Pre-inspection work will now include data gathering in relation to the number of professionally registered CLD Standards Council members included in an organisation's complement of staff and volunteers. For both parties, this significant development signals for the first time ever, the inclusion of the CLD Standards Council alongside other professional bodies operating within education and community work sectors.
Download the Framework Agreement
Partnership Agreement with the General Teaching Council for Scotland
This is a ground-breaking partnership agreement between the CLD Standards Council and the General Teaching Council for Scotland (GTCS). This agreement recognises and reaffirms the role of CLD Standards Council Registered Professionals, GTCS Registered Teachers and the unique but complementary work of both professional associations and will help us to grow and tend relevant professional networks and learning opportunities.
Download the Partnership Agreement