All I want for Christmas is … CLD
December equals Christmas songs, right? Well that's generally the idea, although many shops and radio stations start playing festive tunes in November.  Over recent weeks, songs of Christmas past ask us to think about what we have done over the last year. As team CLD Standards Council reflect on 2017 we are amazed at the achievements and progression of our organisation.
This year, the profile of the CLD Standards Council has been transformed, led by a growing membership and its active engagement in our work. From the Annual Conference, the publication of the "Influencing Change: CLD in Scotland" book, the refreshed code of ethics and improved marketing, communication and business planning it has  been a busy year. Funded by the CLD Standards Council, members new and old attended a range of professional learning events organised by the CLD regional networks, with people engaging with our new website and professional discussions on i-develop and Twitter.  Importantly, the CLD practice placement guidelines were endorsed by CLD employers, universities and colleges and are now being used to support our students and placement providers. Our reach has also continued to grow internationally.  We were delighted to host visitors from Japan, Portugal and partner with YouthLink Scotland to welcome academics from a number of European universities who wanted to learn about CLD: youth work professional training routes.
Increasing member participation prompted the need to revise the CLD Standard Council's governance arrangements, which led by the Executive Committee, has been continuing for the past two years. However, this work has been substantially redirected to take account of proposals in the Education Governance Review for the CLD Standards Council to become part of a new Education Workforce Council.  The CLD Standards Council has  engaged positively with the opportunities offered by the Review. Over the last few months we have undertaken substantial engagement with stakeholders, Civil Servants and government ministers to ensure that our Members views are upfront and central. In this respect, the general mood amongst Members appears to be one of cautious optimism.  Your views and involvement continue to be vital so remember to participate in the Empowering Schools consultation review.  A CLD perspective of the key questions is available on our website to support Members in gathering their responses.
So for 2018 I'm looking forward to a visible and enhanced role for CLD. Progressing the work and ideas from 2017 such as the National Improvement Framework, Regional Improvement Collaboratives, Community Empowerment and local CLD plans call upon the CLD sector to play a leading role.  It also re-emphasises the need to develop a skilled, respected CLD workforce with CLD ethics being central to negotiating the route ahead.
So, on behalf of Ashley and the team I would like to thank you all for your continued support and contributions to the game-changing profession that is CLD. Your commitment and approach to working with and for the young people and communities of Scotland to improve and change lives is what truly shines a light on possibilities and aspirations.  Here's to a healthy, happy and fruitful 2018!
Christmas fun
Our CLD Standards Council Christmas night out involved going to a pantomime (oh, no it didn't!) and as well as the dodgy jokes, innuendos and songs, we loved the community spirit behind the traditional audience song so much, we wanted to share it with you.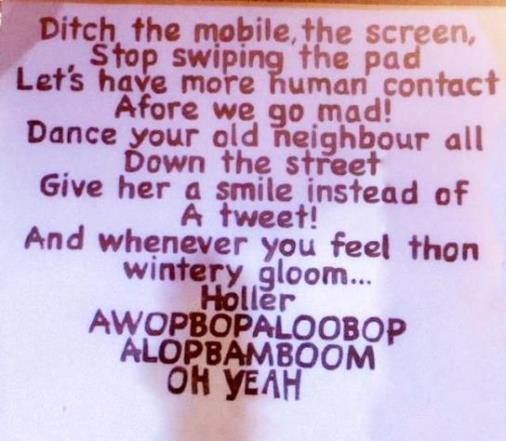 Merry Christmas !