News from the CLD Standards Council
Many thanks to everyone who has signed up or taken part in recent members meet ups, surveys and focus groups. Your engagement and voice is critical to enable us to keep raising the profile of the CLD sector to support you and your professional practice. So thank you from the CLD Standards Council to all our members and supporters who practise, promote and advocate for our professional values and competences that impact on our learners and communities every day.
In this bulletin, you will discover new and interesting opportunities to get involved with and links to useful resources and information to help support your CLD practice.
---
Alan Sherry OBE, Reappointed as Chair of CLD Standards Council
The CLD Standards Council is delighted to share that our Chair, Mr Alan Sherry OBE, has been reappointed for another 4-year term of office.
Alan continues to champion the CLD Standards Council and the wider sector in a number of areas ranging from CLD career pathways and learner pathways to the essential role that CLD practitioners play in the positive advancement of young people, adult learners and communities.
Congratulations to Alan on his reappointment!
---
Family Learning National Occupational Standards (NOS) – online survey now open!
Following two rounds of focus groups, we have now prepared draft NOS and have changes available to comment on.
Please make your views known by completing our Family Learning NOS online survey and please also share with your colleagues.

The survey will be open until 6pm on Tuesday, 21st February. Information on the review process can be found on the Family Learning NOS webpage.
---
CLD Standards Council: Equality, Diversity and Inclusion Members Forum, 17 February, 3pm
This Friday, come along to our first meeting for 2023. Join us in discussions at the new CLD Standards Council members forum on Equality, Diversity and Inclusion. We aim to co-create a designated space for CLD practitioners to come together, ask questions and develop an understanding of the issues impacting the CLD Sector across Scotland, as well as share solutions.
All members and potential members welcome so join us online on 17th February at 3pm to find out more.
Register for the Equality, Diversity and Inclusion Members Forum on Eventbrite.
---
Scottish Education Awards – Nominate Now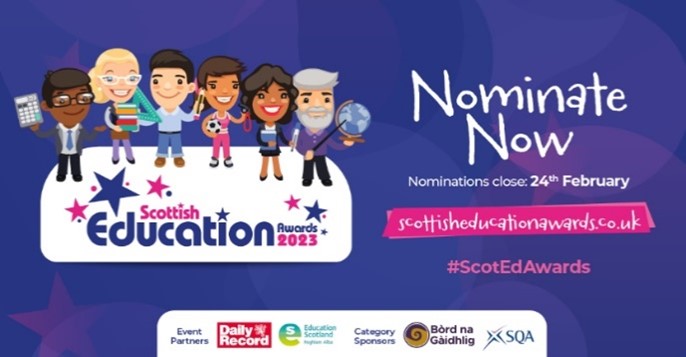 There are only 2 weeks left to nominate your amazing CLD programmes and practitioners for a Scottish Education Award. Let's highlight all the good CLD practice that happens across Scotland. There is there a CLD Award which recognises CLD's contribution to improving life chances for people of all ages. There are also Digital, Lifelong Achievement, Parent and Family Engagement Awards, so get nominating on the Scottish Education Awards website. #BecauseOfCLD #ScotEdAwards2023
---
News from the CLD Sector
Community Wealth Building is focused on growing the influence communities have on the economy and ensuring communities receive more of the benefits from the wealth they help to generate. The Scottish Government are currently consulting on their plans for a community wealth building approach to economic development. This should improve the influence and involvement of local communities in creating both wealth and wellbeing. The consultation outlines 5 pillars of community wealth building: spending, workforce, land and property, inclusive ownership and finance. CLD Standards Council will be hosting an online focus group to gather members views to form a response, so watch this space for more information.
Join Volunteer Scotland's wide range of interactive learning bites to update your knowledge of volunteer practice and discover the latest best practices in volunteer management.
This is a process through which you can identify, research, analyse and record the anticipated impact of any proposed law, policy or measure on children's human rights and wellbeing. It should be used on all new legislation and policy that impacts on children. This guidance includes links to useful resources for gathering evidence, involving children and young people in the development of policy/measure and ensuring decisions are necessary and proportionate.
PB Scotland Network is free and open to anyone who is interested in participatory budgeting. Network members are invited to contribute their ideas, learning and enthusiasm to advancing PB in Scotland.
An LGBTQI+ led non-profit organisation that aims to help people identify, navigate and create safe spaces for LGBTQI+ communities worldwide and a global and collaborative safe space community. There is no cost for listing your space and place so let's get Scotland's safe spaces on the map!
Ready Scotland's learning hub provides learning resources to help individuals, community groups and voluntary sector organisations to prepare for, respond to, and recover from a range of emergencies and to better understand how to work with responder organisations.
---