CLDSC CONFERENCE REGISTRATION NOW OPEN!
It's that time of year again – no, not the Christmas countdown, the CLD Standards Council Member Conference countdown!
Over the afternoon of 2 December (1pm-4.30pm) and the morning of 3 December (9.30am-1pm) we'll focus on Covid-19 Recovery: CLD Identity, Support & Wellbeing. Using the framework of the four harms (Health – Covid; Health – non-Covid; Society; Economy), identified by Scottish Government, we will consider the impact of and support requirements for our professional CLD practice in the recovery phase.
We'll be using Zoom as the conference platform and our friends at SCVO are dealing with booking administration, so book your place at the CLDSC Member Conference. And don't forget to follow and comment on Twitter #CLDSCConf2021.
---
Congratulations to Alan Sherry, OBE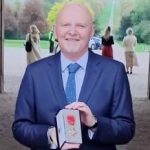 We're delighted to congratulate our Chair, Alan Sherry, on receiving his OBE for Services to Education at Windsor Castle last week. Well-deserved recognition of his hard work and continued commitment to our sector.
---
Leading CLD Professional Learning Programme
We are excited to promote the Leading CLD professional learning programme. Working alongside Education Scotland colleagues, we have developed this programme for CLD leaders who play a pivotal role in establishing collaborative approaches to support recovery and renewal. The content of the programme has been developed with participation and support from senior CLD managers and colleagues from the Higher and Further Education sectors.
Participants will engage in professional learning and reflect on their current CLD role. Programme design is based on the experience participants bring, the knowledge of experts/academics; and, collaborative activities to develop new knowledge.
The programme will be of most interest to senior local authority managers responsible for CLD services, who have identified CLD leadership as an area for professional development. (This includes managers with no, or little previous experience of CLD; and those interested in developing their leadership capital and professional network).
We would now like to welcome initial expressions of interest for the pilot phase of the programme. The pilot programme will run from the end of January to May, and will include four x 1 day sessions. Interested individuals are invited to contact Susan.Epsworth@educationscotland.gov.scot to learn more, and/or to register interest through MS Form by close of business on Friday 19th November. Following initial registrations of interest there will be a second stage in the application process to formally apply for the 20 places available.
---
'Pause, Take Stock, Reconsider' Resource
Over the summer Dundee City Council staff took part in a webinar led by Professor Karen McArdle. The webinar brought people together post Covid crisis work, to think about the way forward and build on lessons learned.
The recording and padlets created are now available to view on the Tayside and Fife Professional Learning Alliance pages on i-develop.
---
TAG Conference, 11-12 November 2021 – Free Places Available
TAG: The Professional Association of Lecturers in Youth and Community Work is a member organisation that represents the interests of academics, educators and researchers in the field of youth and community work. CLDSC is an Affiliate Member of TAG and as such, we're delighted to offer four free places to our members to attend the annual TAG Conference. This year's theme is Reflection, Recovery and Regeneration: Learning from the lived experiences of the Covid-19 pandemic.
The conference will include discussion of how pedagogical approaches to education in youth and community work are challenged by the re-shaping of Higher Education after two years of interrupted learning and shifts towards digitally-led pedagogy. The future also presents particular challenges and opportunities for youth and community work as a distinct professional practice as we seek to recover and regenerate in our work with young people and their communities. Furthermore, it is clear how the pandemic has highlighted the health, wealth and social inequalities across society and the 'patterns of change' that appear to repeat themselves at times of national crisis. The conference will explore these questions through seminar presentations, research dissemination and group discussions that share emerging practice, debate emerging realities and plan for future collaboration.
If you would like to attend, please email contact@cldstandardscouncil.org.uk
---
SERA Conference 2021
The Scottish Educational Research Association (SERA) Conference Week 2021 takes place from 22-25 November 2021, with the Annual General Meeting (AGM) on Thursday 25 November 2021. To mark the 2021 conference the SERA Networks will host four days of online events from 22-25 November on the theme of International Themes in Educational Research. You can find out what's on and book a place on the SERA conference website.
All events will be recorded, with recordings published on the SERA YouTube channel after the conference.
---
Reminder – National Youth Work Awards Nominations
Don't forget to submit your nominations for the National Youth Work Awards. CLDSC is proud to sponsor the Team of the Year category. Please submit and give the judging panel lots to think about in this and all other categories!
Download the National Youth Work Awards nomination form (PDF)
Download the National Youth Work Awards guidance and criteria (PDF)
The deadline for nominations is 5pm on 25 November 2021.
---
SCQF Workshops
Registrations are now open for December's SCQF for Careers Information & Guidance Staff workshop on 2 December 2021, 10am-12pm. This online workshop will introduce participants to the SCQF and look at how CIAG staff can encourage learners to recognise their achievements and plan their next steps in learning or employment.

There are also a very limited number of places available on November's My Skills, My Future workshop on 25 November 2021, 10am-3pm.
---
World Community Development Conference 2022
The 2022 World Community Development Conference will take place from 20 – 22 June 2022 in Ureki, Georgia.
It is hoped that WCDC2022 will take place face-to-face with people coming together in person. However, since the future of international travel remains uncertain, the main events at the WCDC2022 will also be held in virtual formats allowing a maximum number of people to share their ideas, research, visions and findings in community development theory and practice.
In the first instance, delegates are invited to register for virtual participation and indicate interest in taking part face-to-face if conditions allow. In January 2022, the planning committee will review travel regulations and notify delegates if an in-person conference is possible and offer the opportunity to upgrade tickets at that point. Register for virtual participation on the WCD2022 website.
---