Education Reform
The consultation has been launched on plans to replace the Scottish Qualifications Authority (SQA) and reform Education Scotland (ES). The consultation seeks opinions and ideas on:
the replacement of the SQA with a single specialist agency for curriculum, assessment and qualifications
plans to substantially reform ES, including removing inspections from its functions
The consultation will last eight weeks and will close on Friday 26th November.
We held our first consultation event for CLD Standards Council members yesterday and will ensure these views inform our response. We will be holding another Virtual Member Meet-Up event on 26 October 2021, 1pm-3pm, so please join us by registering for the Meet-up on Eventbrite to have your views noted.
For those who are not members of CLD Standards Council, but who have an interest in education, including parents, carers, young people, teachers and lecturers, there is one remaining general webinar where views can be shared. This takes place online from on 28 October 2021, 4.30pm-6pm, you can register for the webinar on Eventbrite.
---
CLD Practice in National Voluntary Organisations
Are you a CLD practitioner working or volunteering for a national voluntary organisation? Would you like to take part in a conversation about what would inspire others from your organisation to identify with and be part of the CLD community? CLDSC are hosting an event on 3 November from 11am–1pm, where participants will explore awareness raising opportunities to highlight the value of CLDSC membership and identify how to support CLD practice and improve CLD Career Pathways in the Voluntary Sector. Register for the session on Eventbrite if you would like to take part.
---
Congratulations – Scottish Charity Awards Finalists
CLD Standards Council were proud sponsors of the Community Action Award at this year's #ScotCharityAwards. Huge congratulations to all the finalists and especially to our category winners Cumbernauld Resilience. If you missed the chance to get your glad-rags on, top up your glass and join fellow CLDSC members to celebrate the work of CLD in the voluntary sector at our virtual watch party, you can view the ceremony on the SCVO YouTube channel.
---
Scotland's Learning Festival
And don't forget, all sessions from this year's Scottish Learning Festival are available to view until 30 November 2021.  Tune in for inspiring keynotes from the Right Honourable Stewart Laurence; Critical Conversations on leadership; and a wide variety of seminars on Developing the Young Workforce, the impact of poverty and trauma-informed practice to name only a few! If you did not manage to register for SLF Online, you can still access the recordings by emailing the SLF mailbox with your name, email address and organisation.
---
The Moment
Children's Parliament and Scottish Youth Parliament are working together to support children and young people across Scotland to participate in a nationwide event called The Moment taking place on Friday 29th October 2021, one week prior to the international UN climate conference, COP26, in Glasgow. The Moment aims to be a positive, hopeful way of children and young people connecting with the decision-makers who hold the power to drive the urgent, systemic changes needed to tackle the climate emergency.

Elected representatives (Members of Parliament, Members of Scottish Parliament and local councillors) have already 'saved the date' so they can participate in 'climate surgeries' with children and young people across Scotland, and discuss their climate calls to action ahead of COP26.

This work is supported by Globe International who will host the Global Legislators' COP26 Summit taking place on 5th November, bringing together parliamentarians from across the world to discuss international collaboration for tackling the climate emergency. Children and young people's stories from The Moment will be captured on an interactive map and presented at the Summit.

To support children and young people to participate in The Moment, Children's Parliament and the Scottish Youth Parliament have created digital resources:
---
Good luck Willie Bhari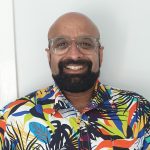 Over the last three years Willie has been supporting the CLD Standards Council as our Team Support. He is moving onto a new role within Education Scotland and we would like to say a huge thanks for all your hard work in keeping the team and the Council organised. Thanks also for all the fabulous cakes and bakes too, you're definitely a contender to participate in the Great British Bake Off! Good luck in your new role and remember to keep in touch.