Welcome to Robbie Crow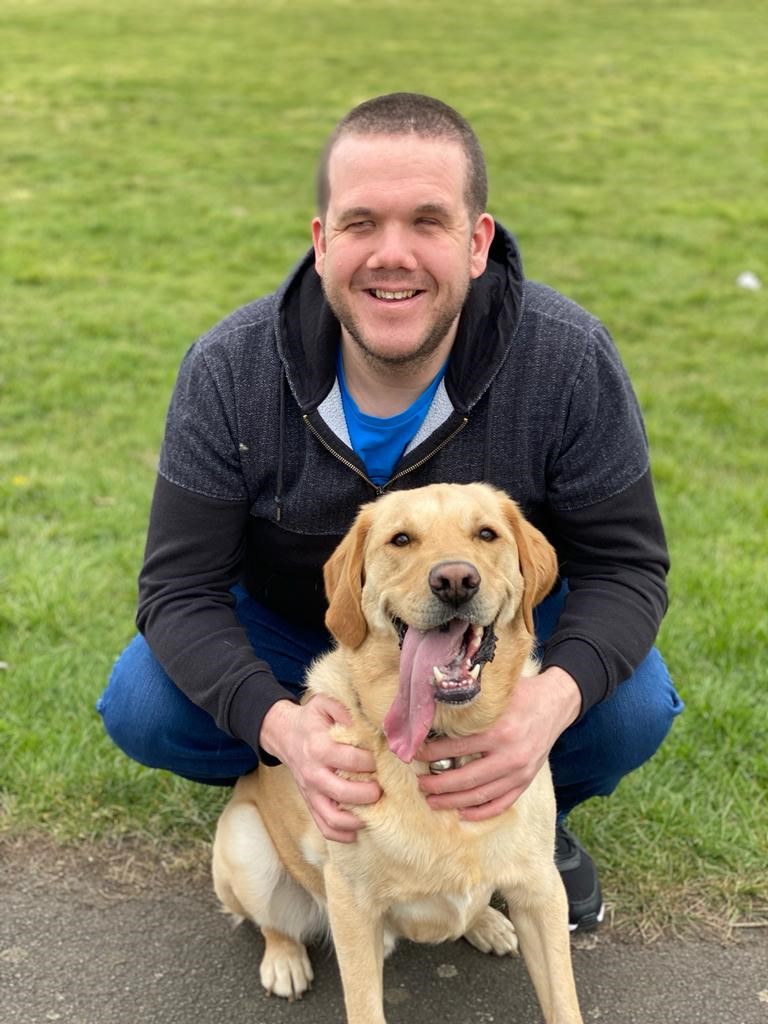 A warm welcome is extended to Robbie Crow who joins CLD Standards Council from Scottish Government for 6 months as Development Officer, Professional Learning. Robbie is looking forward to finding out more about CLD Standards Council and supporting us with a wide variety of professional learning activities.
And if you're an avid Instagrammer, please also give Yogi, Robbie's guide dog, a follow! @GuideDogYogi
---
Dundee and Angus College Standards Mark Approval!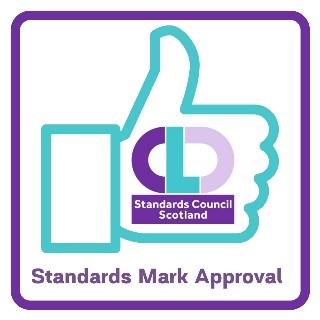 CLDSC wish to offer huge congratulations to Dundee and Angus College Learner Engagement & Community Partnerships Team for achieving their approval for CLDSC Standards Mark.
Well done!
The Approval Panel noted the good quality of the submission given to them for consideration. This provided a clear picture of the learning culture within Dundee and Angus College. The panel acknowledged the collaborative approaches used across the whole College. This is helping them to make best use of the specific skills they know are available within their organisation. 
A special note of acknowledgement must go to the Service Design Academy (SDA) within D&A College as a good example of collaborative practice.
It is evident that staff put people, clients, customers and students first by applying service design methodologies. The skillsets used by SDA are very similar to CLD which helps facilitate change in whatever form that takes and aims to create positive impact/transformative change. There is clear evidence of the strong and valued working relationship the SDA have with the Learner Engagement & Community Partnership Team. 
Find out more about Dundee and Angus College Learner Engagement and Community Partnership Team.
 Do you think your organisation should seek CLDSC Standards Mark (CLDSCSM) approval?
CLDSCSM approval is aimed at organisations who offer CLD learning to staff, practitioners and volunteers.
The Standards Mark is the approval route offered for organisations who offer CLD learning to staff, practitioners and volunteers: from the smallest voluntary sector project to local authorities and national agencies. The Standards Mark process looks at the whole range of learning opportunities offered, not one specific programme, as well as the learning culture of the organisation.
The Standards Mark will nurture a culture of learning in our sector in order that individual practitioner's engagement with professional learning will contribute to the development of the whole profession. Through this they will demonstrate and enhance their commitment to a culture of learning:
Where learning is celebrated, recognised and encouraged
Where learning is reflected on and shared
Where challenge is relished and embraced
Where critical reflection is embedded in practice
Where individuals can explore learning related to their role throughout their careers
This culture is underpinned by the values and competences of CLD and commitment to our Code of Ethics.
The Standards Mark does not replace the existing routes available for approval of individual learning programmes. For example, a provider may offer the PDA in Youth Work, approved using the Developmental process, and also be awarded the Standards Mark.
Full details about the Standards Mark are available on the CLDSC website.
---
Virtual Member Meet-up – 5 May 2022, 1-2pm – Youth Guarantee Programme
For the past year, North Lanarkshire Council's CLD team employed 19 CLD Assistant Support Workers (ASW's) aged between 16 and 24 years for one years paid employment under the Youth Guarantee Programme. Each employee worked in all areas of CLD and had a robust training schedule. All but one ASW has continued onto a positive destination. This session will showcase the ASW's learning journey and what the evaluation has shown.
Join us to find out more.  Register for the May Virtual Member Meet Up on Eventbrite.
---
Adult Learning Strategy Virtual Launch – 11 May 2022
The new Adult Learning Strategy will be launched over 2 days in May! An in-person event is taking place on 10th May, but has sold out quickly. The good news is, places are still available for the virtual event!
The Adult Learning Strategy's vision is that adult learning in Scotland will develop better skilled, educated, confident and empowered people contributing to connected and inclusive communities. It's aim is to create the conditions for connected adult learning opportunities that link Scotland's communities, local authorities, third sector organisations, colleges and universities around an offer of learning for adults, particularly those furthest from inclusion and experiencing disadvantage. The launch will focus on how we can collectively achieve this aim by exploring the themes and actions within the strategy's strategic action plan.
Register for the virtual launch on 11 May 2022, 10am-12.15pm!
---
OU Microcredentials – Free Places available now!
There's still time to apply for a fully funded place on The Open University in Scotland's (OUiS) online learning Microcredentials for those working in the CLD sector.

The courses on offer are:
• Online Teaching: Creating Courses for Adult Learners
• Online Teaching: Evaluating and Improving Courses
• Online Teaching: Accessibility and Inclusive Learning
• Teacher Development: Embedding Mental Health in the Curriculum
• Online Teaching: Embedding Social, Race and Gender-Related Equity
These courses are at postgraduate level and will start in June 2022 and run for 12 weeks. For more information and to apply, please visit OUiS Microcredentials for CLD.
The deadline for applications is Sunday, 15 May 2022.
---
International Association of Community Development (IACD) seeking Trustees
In advance of its Annual General Meeting in July, IACD is issuing a call for new Trustees to join the Board. It is seeking to fill 6 upcoming vacancies, and particularly welcomes expressions of interest to represent the global regions of South Asia, East Asia and Middle East/North Africa. You must be a current paying IACD member to apply.

IACD is a small organisation, with just one part-time member of staff. Much of IACD's work is done by the Trustees, so it's important that anyone joining the Board is willing and committed to getting actively involved in the organisation's work.
Trustees responsibilities include:
attending four/five Board meetings per year (via Zoom)
joining at least one of the committees that are responsible for implementing actions in the Strategic Plan
representing and promoting IACD at local and regional events
gathering local and regional information about CD practice and feeding that back to the Administrative Officer to update and share through the website and social media outlets
helping with organising global conferences, practice exchanges
contributing to the magazine Practice Insights
IACD Trustees have plenty to do and must be willing to take on roles and actions. As a Scottish Charitable Incorporated Organisation regulated with the Scottish Charity Regulator, all Trustees must comply with Scottish Charity Law. Find out more about Scottish Charity Law.

If you are a current paying member interested in applying for this role, please complete this Expression of Interest form by Thursday, 28 April 2022.
IACD will review your form, invite you to an information session, and then send you an application form to complete. If you have any questions about this process, please contact Anna Clarke, IACD Chair, anna.clarke@iacdglobal.org.
---
Social Security Scotland – National Engagement – Adult Disability Payment – Stakeholder Pilot Phase Event
Adult Disability Payment has been designed to provide extra money to help with the costs of living with a disability and/or long-term health condition and will replace Personal Independence Payment in Scotland, which is currently delivered by the Department for Work and Pensions.
Phase one of the pilot for Adult Disability payment launched in Dundee, Perth & Kinross and The Western Isles on 21 March 2022. Adult Disability Payment pilot will now be launching on 20 June for new applications only in the pilot areas of Tayside, Western Isles and Lanarkshire health boards (North Lanarkshire, South Lanarkshire and Angus local authorities).
If you are a CLD practitioner who supports families and individuals with benefits, Social Security Scotland is hosting a series of online stakeholder events to provide information on the key Adult Disability Payment topics, as well as answer any queries. Please note that these events are for stakeholders supporting clients in the Pilot areas only and national organisations. Further events will be held throughout the year to support stakeholders in other locations.
This series of events will cover six different Adult Disability Payment topics:
General Adult Disability Payment Policy Overview
Special Rules for Terminal Illness
Adult Disability Payment Applications
Decision Making and Supporting Information (Public Sector)
Decision Making and Supporting Information (Third Sector)
Debt, Overpayments and Hardship
A variety of dates will be available for each themed session. For more information about the events or to book a place please visit the Social Security Scotland – Events webpage.
Chris Walsh, National Engagement and Partnership Lead, will also be hosting a Virtual Member Meet-up for CLDSC in July, so watch this space for more details.
If you have any queries, please contact Chris Walsh at christopher.walsh@socialsecurity.gov.scot.
---