Spectacular Summer Programmes
School's out, college is closed and summer is here! In the world of CLD, the community is never on holiday and it's amazing the sheer volume and range of amazing summer fun and learning programmes that our Members are delivering with and for Scotland's young people, families, learners and communities. Service delivery in line with COVID safety guidance is bringing opportunities and challenges for all, from outdoor expeditions to online cooking challenges, the CLD sector really has got something for everyone. At team CLD Standards Council we love to hear all about your amazing work so if you're on Twitter remember to tag us. It's #BecauseOfCLD that #AdultLearningMatters and #YouthWorkChangesLives.
---
CLD Standards Council reMEMBER the benefits!
Becoming a member of the CLD Standards Council as an Associate or Registered Member offers a whole host of benefits including:
monthly Virtual Member Meet-Ups
weekly Member Bulletin News updates
invitation to our Annual Members Conference (check out the article below for news about 2021 Conference!)
access to our Buddy/Mentor/Professional Learning Verifier support
access to a range of events, some for members only, or places provided at external events and conferences.
access to member only areas of i-develop
CLD Standards Council Members Slack Space
free online access to Times Educational Supplement Scotland magazine
access to University and College Libraries across Scotland
links with UK-wide Association of Professional Lecturers in Youth & Community Work
access to Scottish Council for Development & Industry materials/events
This is on top of being part of a recognised professional body strengthening a shared professional identity within this diverse area of practice, with opportunities to:
drive forward new developments in our sector
have a key influence on policy initiatives and responses
play a lead role in shaping the future of the Standards Council
So if you have any colleagues who are not members yet please let them know about the benefits and opportunities they are missing out on by sending them this link – Register with the CLD Standards Council.
And remember, to keep enjoying these benefits yourself, you need to renew your own membership when requested. If you think you have been registered for more than 3 years and have not received a request to renew please let us know at contact@cldstandardscouncil.org.uk.
---
Student Spotlight
Following on from last week's Congratulations to Students Graduating from CLD programmes we thought a few feel good stories would brighten up the week.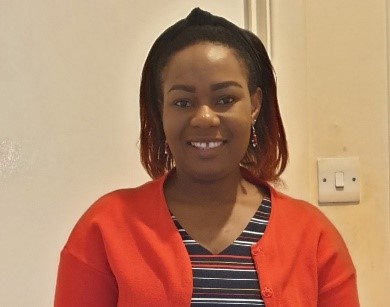 Fungai Moetsabi – "So, here I am today a Community Learning and Development professional!"
Fungai commented on her journey and achievements:
"A career in Community Education will keep me close to the communities that have welcomed me and my family to Scotland. Achieving this award means a lot to me. Leaving school at the age 16 and becoming a mum, then migrating to the UK, and returning to education 20 year later, did not stop me achieving my goal. As a migrant I faced some challenges that put my life on hold for 10 years while trying to settle into the UK however I gained a place to study Community Education at the University of Dundee. Life is busy, I gave birth to my third child during 3rd year of my studies! In my final year I was part of Team Experience and I utilised my lived experiences as a migrant to highlight the need to fund organisations that assist migrants integrate into the society, engaging them in projects that enhance their employability skills to make Fife a place which is just and embraces diversity".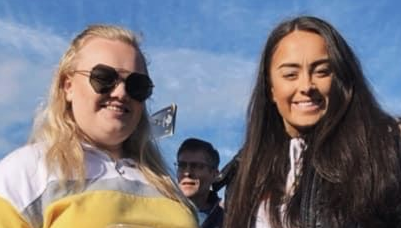 Zoe Thompson – secured her dream job on the Shetland Islands:
"When I joined the course at Dundee Uni, it was because of a youth worker from my Youth Council in Midlothian. The CLD programme helped me actually understand what I could do and how to develop my practice to support young people as well. The practice was my favourite part of the whole course. The wide range of placements I did helped me appreciate all the different areas of CLD. I always knew I wanted to do youth work but I did a community regeneration placement to learn about other forms of community work so I could link them together in my practice and join up with the other workers in the team. The confidence that I built during my placements made me apply for the job on Shetland and to be prepared to move there. I'm looking forward to using all my knowledge and practice experience to work with the young people on the islands to set up a Youth Forum and a Youth Bank. It was the Youth Council and a Youth Worker who inspired me to get onto the course and now I'm that Youth Worker! It's gone in full circle and I'm really happy, this is my dream job!".
Rebecca Smith – worthy winner of the Internship Impact Award in celebration of her work with Tayside Council on Alcohol (TCA). Rebecca was pleased to comment on the achievements she made over the course of her studies despite many life challenges. Her work leaves an important legacy:
"I overcame a lot of challenges during the course, and I felt I really came into my own during my 4th year internship, but I did not expect to win an award for that. I am very proud that my research report has been shared within the drug and alcohol community, and I hope it can make a positive difference to those who use the services. I couldn't have done the last four years without the brilliant people I met along the way in the form of different professionals, students, and tutors. I have gained a lot of skills, but the most important thing is how much my confidence has grown over the last few years. I love working with people and this course has given me the practical skills and the resilience to really be able to make a difference to people's lives. I will take that forward with me when I do eventually get a chance in a CLD job".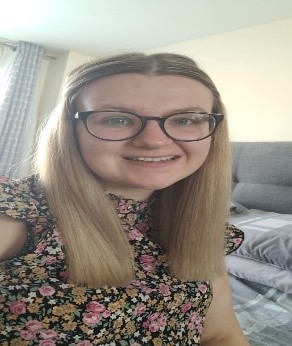 Aimee Brown: a journey to Successful Employment:
"Without the opportunities and learning I gained from the course at Dundee Uni I would never have the knowledge or skills to apply for the job I have just achieved – particularly when considering the interview process which involved both a presentation, delivering a mock workshop, and an induction meeting with a young person joining the programme. I feel extremely lucky and blessed to have worked alongside and learned from such talented professionals both out in the field through placement opportunities and from the fantastic lecturers within the team. Good luck everyone!"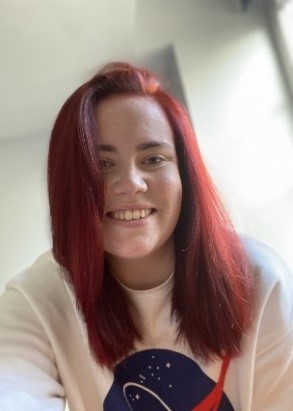 Pippa Cowling: a journey through widening access
Pippa was nominated for the engaged Learning Award and was commended for her sustained dedication and engagement with the programme. Pippa took advantage of the widening access route through Fife College to gain direct entry into second year. Pippa commented: "My journey into the Community Education (CE) course was one which did not come without turbulence as I began with entry into the course through an Articulation Route. This proved to be challenging, and I certainly relied on support from both my peers and the CE staff within the University. The support which I received both challenged my thinking and encouraged me to look at things from different perspectives, areas which I had previously struggled with. My time on the CE course has certainly been shaped by others, and I will continue to be grateful for all the challenges, experiences, opportunities and support the course has provided".
---
Meeting the Expectations of the CLD Plans Guidance Note
Support offer in relation to workforce development
Earlier this year, CLDSC wrote to Chief Executives in local authorities offering support in relation to the expectations set out in CLD Plans Guidance Note (2021-24), published by Scottish Government in December 2020.
Key to this support is the provision of information and guidance that may help in producing the workforce development section of CLD plans and we've developed a suite of information materials which may help. These can be found on the i-develop CLD Plans Workforce Development area.
Information on each of the expectations outlined in the Guidance Note is available and provides more details of the kind of the nature of the support available through the CLD Standards Council.
We are continuing to work with partners at a national level to provide ongoing
assistance towards the implementation of the CLD plans.
---
World Community Development Conference 2021
The conference took place last week …
"WCDC2021 was a celebration of community development – a discipline and practice that seeks to nurture the enduring community spirit that holds communities together. It is a fact that community life occurs within contexts that are promotive of healthy communities but equally that also have shocks and uncertainties which pose a challenge to meeting even the basics of live including hope. Yet communities through their enduring connectedness are constantly engaged in efforts to bounce back, and indeed, often do bounce back in spite of the adversities within vulnerable contexts– largely because of drawing from the wide range of resources and assets from within and without the community.

Community development ethos and processes also enable communities to be resilient! Lastly, community development seeks to actualise communities' goal of enhancing their staying power through sustainable empowerment interventions from within and without. It helps if community development is undertaken within a context that is predictable – where standards – ethical, legal and value driven – underpin the process."
World Community Development Conferences – IACD (iacdglobal.org)
You can find the uploaded videos from Conference presentations on the conference YouTube channel.