The CLD Standards Council has 8 places for members or associate members to attend the Micro-Tyco Future Talent Forum.
The event will be held from 6 to 8 pm on 26th October 2016. Venue is 29 Royal Exchange Square, Glasgow.
The forum is aimed at students or practitioners at the start of their careers. There will be a CV workshop and advice on creating a Linkedin Profile including getting a headshot photograph for your profile. Further details below.
If you would like to apply for one of the 8 Standards Council places please register your interest before 23rd of October. Register here.
There will also be a panel answering questions at the event so if you would like to submit a question please include this on your request.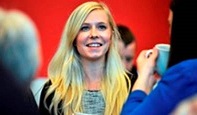 Whether you are at school, university or your first job, turbo-charge your career at a Micro-Tyco Future Talent Forum
Future Talent Forums are the latest entrepreneurial events from WildHearts, providing school pupils, students and young professionals with Micro-Tyco's three key components – inspiration, knowledge and networks – whilst connecting companies to the talent of the future.
During the event attendees will have the chance to pose questions to the panel of Talent and HR professionals from leading firms, drawing out their career advice and top tips. There will also be the chance to learn more about the award winning enterprise programme Micro-Tyco and network with both peers and potential employers.
Hosted by Micro-Tyco partners Deloitte, the next Future Talent Forum panel will feature:

Laura Stein, Director of HR, Barclays
Iain Mitchell, Project Development Officer, University of Strathclyde
TBC
This year, Barclays are offering an interactive element to the event. Attendees will take part in a CV workshop giving them invaluable advice on developing their CV. Also, there will be advice on creating a LinkedIn profile and a chance to get a headshot taken for LinkedIn profiles.