News from the CLD Standards Council
A week in the life of the CLD Standards Council
💻 National Discussion on Scottish Education member involvement planning
👩‍🎓 Congratulating graduating CLD students from Glasgow Kelvin College
💡 Meeting Learn North Consortium Members
🔍 4 National Occupational Standards Focus Groups
📜 30 new Associate Members of the CLD Standards Council
---
Adult Learning National Occupational Standards (NOS) Focus Group – Monday, 7 November, 2pm-4.30pm
Next week, our focus shifts to Adult Learning in our National Occupational Standards (NOS) development work. Join us to get involved in the creation of a suite of NOS for Adult Learning relevant across the UK. This is a first for adult learning, so if you're involved in delivering or managing adult learning, if you develop or deliver adult learning training qualifications for practitioners or if you employ adult learning staff, we want to hear from you!
Register for the Adult Learning NOS focus group on Eventbrite.
---
CLD Standards Council – Annual Lecture and Conference, Edinburgh, 1-2 December 2022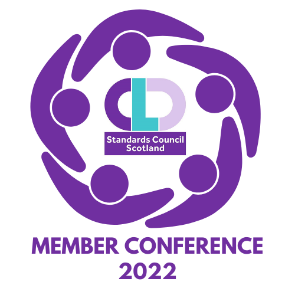 If you are planning to attend the CLD Standards Council Annual Lecture and Conference in person, the closing date for registration is 11th November 2022.
Sign up to get involved in the workshops – these will not be available virtually, so if you want to find out more about Scotland's Volunteering Action Plan, how CLD Plans focus on your professional development, what learning and development opportunities are on offer, and much more – sign up to attend in person.
Remember it's free 😊 and don't forget to follow and comment on Twitter #CLDSCConf2022.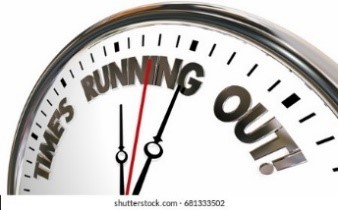 ---
CLD Standards Council: Have Your Say: Improving gender balance and equalities within the CLD sector, 11 November, 12.30-1.30pm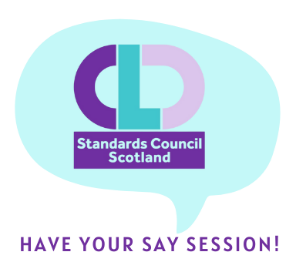 There is still time to sign up and reserve your space to join us on 11 November at 12.30pm for the review of these new resources for Improving Gender Balance and Equalities in CLD.
During this session, the Education Scotland CLD team will:
Introduce the draft resources
Seek your feedback on the draft data guide
Seek your feedback on the draft self-evaluation framework
For more information on these resources please visit the Improving Gender Balance and Equalities in CLD: development of new resources webpage.
Register for Have Your Say: Improving gender balance and equalities within the CLD sector on EventBrite.
---
CLD Standards Council Executive Committee – Recruitment Now Open
The CLD Standards Council supports practitioners to bring to the fore their professional values, ethics and competence when working with young people, communities and learners. To enable us to do this effectively we are now recruiting for 4 new members of the CLD Standards Council Executive Committee.
The Executive Committee has a key role in setting and developing the strategic direction for the CLD Standards Council and seeks to build the capacity of the organisation to act in a responsive, accountable and effective way. The Executive Committee provides advice and support to the Chairperson, is in a position to offer constructive challenge to the operations of the organisation and provide both the Director of the CLD Standards Council and other key stakeholders such as Education Scotland and Scottish Government with an independent perspective.
Full application and contact details can be found on our Recruiting for the Executive Committee webpage.
Find out more about our work on our website or by following us on Twitter @cldstandards.
The closing date for applications is Friday, 25th November 2022.
---
CLD Standards Council – Members Meet-up November: Competences and Supervision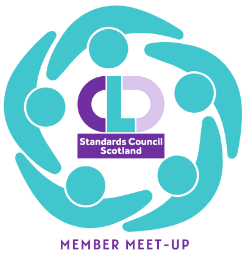 What a wonderful attendance at this month's members meet up and some really great ideas on how the CLD competences can be used as a tool to help and support practitioner development.
Our big discussion question:
How do you use the CLD competences within supervision?
If you have any thoughts or top tips as regards embedding competences in your practice, such as supervision, mentoring, project planning etc please get in touch at contact@cldstandardscouncil.org.uk.
---
News from the CLD Sector
ON NOW: Free online practitioner learning for CLD, organised by the regional professional learning networks, Education Scotland and CLD Standards Council. There are still spaces for this week's events hosted by Learn North. #becauseofCLD.
This annual campaign aims to make sure that everyone feels comfortable with everyday maths. How can you support and promote "Number Confidence Week"? Visit the campaign hub, have a go at the National Numeracy Challenge, and promote it to others. Social Media: #NumberConfidenceWeek #becauseofCLD @Nat_numeracy @EdScotCLD.
The Scottish Government CLD Policy Unit and Education Scotland are gathering information in relation to ESOL across Scotland. They would like responses from local authority, college and voluntary organisations and would ask for one reply for each organisation. Responses required by Friday, 11th November 2022.
This small grants fund is to support small, local organisations to continue or extend digital inclusion activities with people at risk of death from a drug overdose and those who care about them and support them. Grants to a maximum of £10k for up to twelve-months are available for local voluntary and community organisations.
Understanding the views and priorities of Scotland's diverse communities is fundamental to how Police Scotland responds to the needs of the public. Taking part in the #YourPolice survey helps shape the way communities are policed.
This day-long Glasgow conference on 11 November will celebrate and reflect on the New Scots refugee integration strategy and the New Scots Refugee Integration Delivery Project. The aim of the strategy is to ensure newcomers to Scotland live in safe and welcoming communities that enable them to rebuild their lives from the day they arrive in Scotland; and the delivery project supports the implementation and evaluation of the strategy and provides funding to over 50 initiatives designed to help New Scots settle in their new communities.
---