CLD Standards Council Annual Lecture and Conference – Were you there?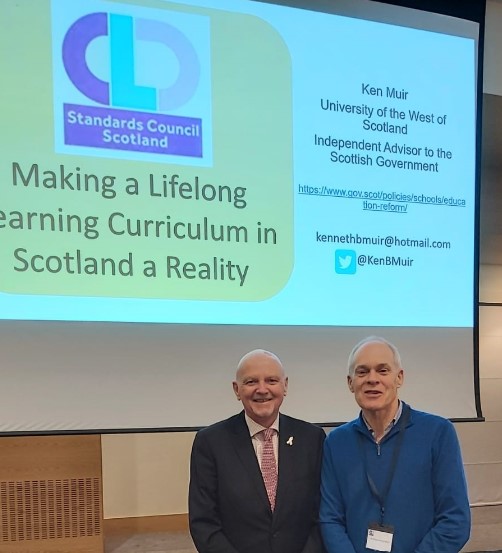 A huge and sincere 'Thank You' to every one of you who joined us in Edinburgh on 1st December and 2nd December at the John McIntyre Centre.
On Thursday evening Professor Ken Muir delivered the Christmas Lecture, 'Making a Lifelong Learning Curriculum in Scotland a Reality'.
Alan Sherry OBE, CLD Standards Council Chair (far left) with Professor Ken Muir (near left).
On Friday we had the full day CLD Standards Council Members Conference introduced by our Chair, Alan Sherry OBE and Jamie Hepburn, Minister for Higher Education, Further Education, Youth Employment and Training.
The day included a keynote from Sara Thiam from the Scottish Council for Development and Industry (SCDI) and interactive workshops (see below).
Don't know about you but the CLD Standards Council team had a blast! It was just superb to see so many of you in person, catch up properly in the reconnections sessions or just blether over a cuppa!
Thanks also to those far and wide who joined online for the lecture and keynote. Vikki and Steven enjoyed posing your questions as well as getting chat with those of you who could not attend in person.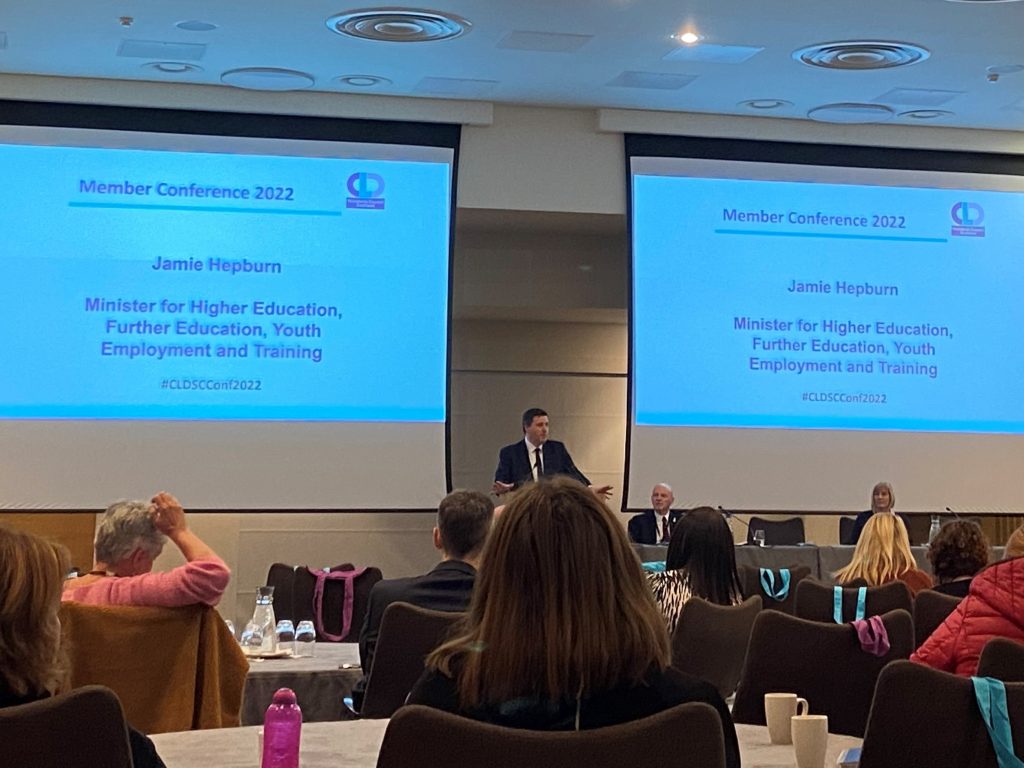 Recordings of the key-note speeches will be available on-i-develop soon along with slides from the presentations and workshops.
Did you share your thoughts about CLD with CLD Talks? We will be sharing those vox pops soon too, so keep an eye on the members bulletin.

Conference Workshops
Professional Learning for you from CLD Standards Council and Education Scotland
Showcasing a variety of opportunities available to CLD Standards Council members, Education Scotland highlighted its opportunities in Supporting Workforce Wellbeing, the United Nations Convention on the Rights of the Child (UNCRC) and Improving Gender Balance and Equalities, and participants were asked to contact Nicola Sykes at nicola.sykes@educationscotland.gov.uk if they'd like more information on Self-Evaluation for Continuous Improvement. Our CLD Standards Council Professional Induction Course and the Buddying and Mentoring offer available to members were also highlighted.
National Occupational Standards
The CLD Standards Council are currently reviewing the Community Development & Family Learning NOS and creating a brand new Adult Learning NOS. Kirsty & Steven ran three sessions asking practitioners, "How do you currently use National Occupational Standards in your workplace", "How else could you use National Occupational Standards" and "What support do you need from the CLD Standards Council". Looking at existing functional maps that make up the current standards, we gave a brief overview of their importance and "why NOS matter". In Scotland the National Occupational Standards form a key part in the development of SVQs (Scottish Vocational Qualifications) which was of interest to some of the students and participants in the session.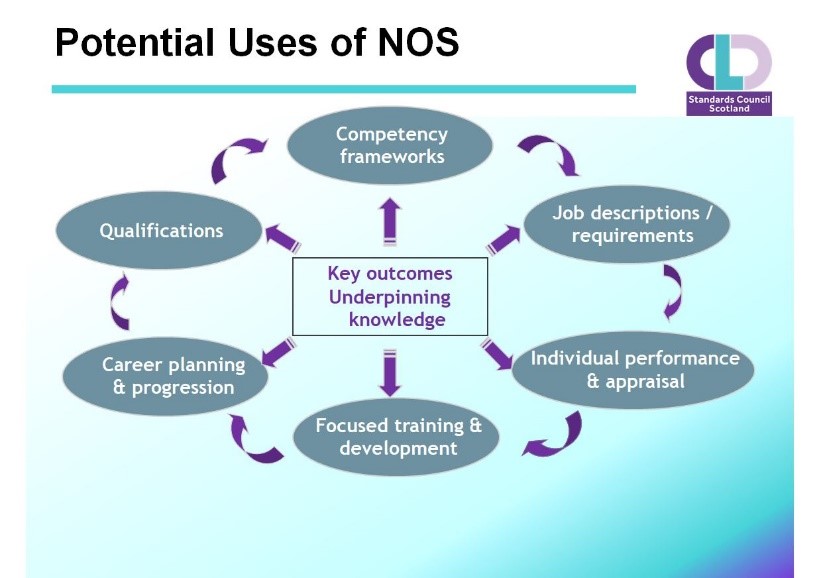 If you haven't yet managed to feed into the National Occupational Standards consultations, there's still time – please look at our dedicated NOS I-develop page where you can find our more information on how to get involved.
CLD Plans Workforce Development – What's in it for you?
Vikki and Grant delivered this workshop on the 32 regional CLD Plans, with a specific lens on the workforce development sections within the plans. It was really interesting to take time to review and note the variation, as well as give participants time to reflect and discuss how their CLD plan does or could support them as practitioners and as a CLD workforce. Viewing them as a tool, and as something that belongs to every practitioner in that area, changed our perspectives on the plans and how we could use them personally, organisationally, regionally and nationwide. A phenomenal number of interesting "Pledges" were made by participants regarding how to use their plans moving forward…… We are excited to see what happens next!
Supporting the Voluntary Workforce in CLD
Sarah Latto from Volunteer Scotland delivered an interactive and interesting workshop, exploring the relationship between volunteering and CLD, and how CLD practitioners can ensure that volunteers have a positive experience. Participants took a dive into current context that affects volunteering, particularly the ongoing recovery from Covid-19 and the cost-of-living crisis.
Sustainability – Global Citizens, Local Actions
Carolyn Wills from the West of Scotland Development Education Centre (WOSDEC) looked into how their centres support educators in CLD to promote global citizenship. Critical discussions were had around how global citizenship should be part of everyday life but with acknowledgement of the complexity of global issues and the importance of social justice both locally and globally to ensure we all have an ultimate goal of shaping a just and sustainable future for all.
Key Learning and Conference Feedback
What's the key piece of learning you are taking away from #CLDSCConf2022?
Linking global competences to what we do
CLD plans and the need for more awareness of these 'on the ground' with local people
How closely linked CLD practice and volunteering are
Thinking about how we prepare practitioners for roles that are delivered differently
That our sector – the CLD family, is more powerful together
We are gathering evaluations right now so if you have not done so yet, please share your views via our conference survey.
In the evaluation we ask for you to "Share one word to describe the #CLDSCConf2022". The word cloud below shows what we have been told so far: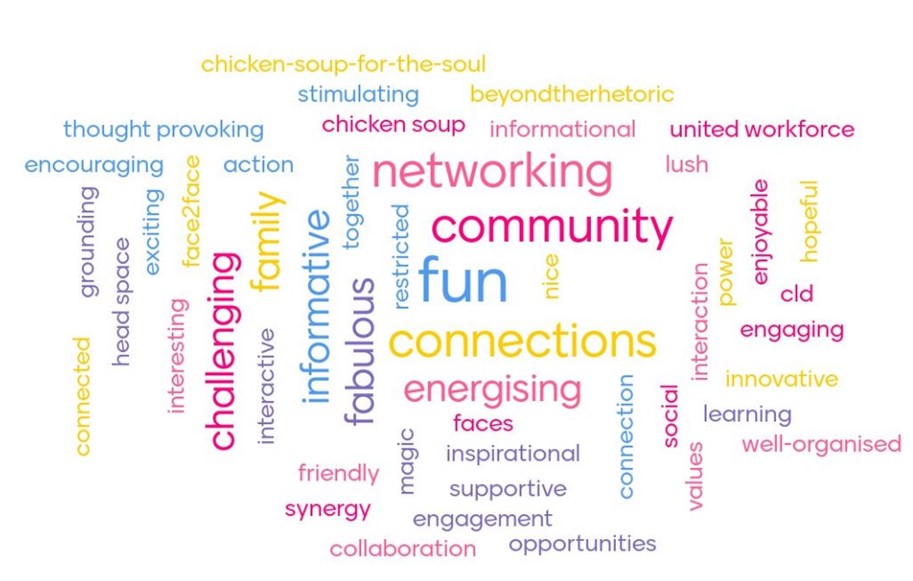 And don't forget to keep an eye out on upcoming bulletins for links to the recordings and presentations.
---