News from the CLD Standards Council
Whilst we are all busy doing last minute preparations for our CLD Standards Council Members Annual Lecture and Conference (Yes, it's this week!) we have still been out, meeting with folk and talking all things CLD.
Marion and our Chair, Alan, had a productive meeting with senior civil servants to discuss support and promotion of the CLD sector in Scotland.
Steven and Kirsty, along with Laura Starkey and Nicola Sykes from Education Scotland CLD, met with managers from North Ayrshire Council and Highlife Highland to share practice around "Grow Your Own" CLD Practitioners. North Ayrshire gave an enthusiastic presentation on how they developed CLD career pathways using professional learning opportunities along with work-based learning to enrich the practitioners' experiences, knowledge and skills.
Ross met with National Voluntary Youth Work Managers Scotland to talk about enhancing partnership links to best support staff and volunteers within CLD.
A number of members joined us this week when we met with Professor Alma Harris, one of the independent consultants working on the National Discussion for Scottish Education, and really positive, critical and impactful discussions were had. This session gave the research team a wider lens regarding the Scottish Education landscape and promoting the need for parity of esteem and equity among all professions working within life long and life wide learning across Scotland. We are now analysing all the data gathered from the previous two fabulous online sessions and are excited about the insightful and positive ideas and opinions given which will form our response on behalf of the CLD sector and our members.
Watch This Space and look out for next week's bumper edition Conference Special 😍
---
CLD Standards Council: Member Meet-up – December: Cost of Living Crisis, 8 December, 1pm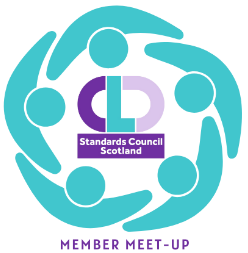 For our December Member Meet-up, we'll be talking about the cost of living crisis. What effect is the crisis having on you, the learners you support, and the ways in which you support them?
We're really keen to know if you've had to adapt what you do and how, as well as if the crisis as a whole is having a negative impact on participation in CLD services. Come along, tell us what you're doing and how it's affecting CLD in your area!
Register for the December Member Meet-up on Eventbrite.
---
News from the CLD Sector
There are a number of online digital learning events available in December, as well as a digital conference next February.
Take a look at this informative and interesting blog about ways in which people with lived experience have previously been meaningfully engaged in decision-making and/or policymaking processes.
Held on December 3, this annual event acknowledges and highlights the human rights of disabled people. The theme for this year is "Building Back Better: toward a disability-inclusive, accessible and sustainable post COVID-19 World". Can you get involved?
Celebrating their 50th anniversary and partnered with NHS 24 Breathing Space, the 50th Breathing Space bench in Scotland was unveiled. The Breathing Space Bench Initiative is about welcoming spaces, encouraging people to sit and take some breathing space, share a bit of time for listening and talking, reach out and show kindness and compassion.
---