Professional Approval – University of Glasgow – BA/BA (Hons) Community Development

Professional Approval was awarded to the BA/BA (Hons) Community Development programme delivered by the University of Glasgow.
The Approval Panel would like to note their thanks to the delivery team for the work they undertook in preparing a detailed and succinct submission document.
The Senior Management Team within University of Glasgow also asked to note their appreciation of the hard work of Helen Martin and Joyce Nicholson on their leading of this programme, as well as the amazing work that Amanda McDonald undertakes to ensure that there is a good practice placement experience for all involved.
The Panel found a lot of positive areas between the submission documents and the discussions throughout the event. Here are just a few of the areas the panel highlighted:
It is clear that the success of this programme is based on relationships and on a few occasions during the process, the Panel heard it was "like being a family". This was very clear in messages from Students, Senior Management, and Practice Placement Supervisors and extends out to the University Glasgow's wider community.
The students provided a very clear message that they had lots of opportunity to input to all areas of the programme's content and the delivery. As a result, they felt their voice was heard and could see changes to the programme implemented.
It is evident that having a dedicated role(s) for Practice Placement (PP) provides students with a substantial level of support while on practice placement. To provide support at this level and quality evidences a huge commitment from the University.
The Panel were keen to note that they were impressed by the focus on research and especially opportunities to undertake CLD specific research. It was heartening to see this research reaping benefits and encouraging a cross-sectoral approach with research that will impact across the CLD field. In particular, how it relates to the intersections of Community Development, Childhood practice and Teaching. The Aspiring headteachers programme is an example where joint working with headteachers and CLD student practitioners completing their placement in schools are now seeing the value of the approach. As a result, they want to do more to support implementation of CLD methodology and pedagogy in their schools.
As a final comment the panel wanted to share their view that "The time commitment from staff is over and above normal expectations and really needs to be given the recognition it deserves."
Well done!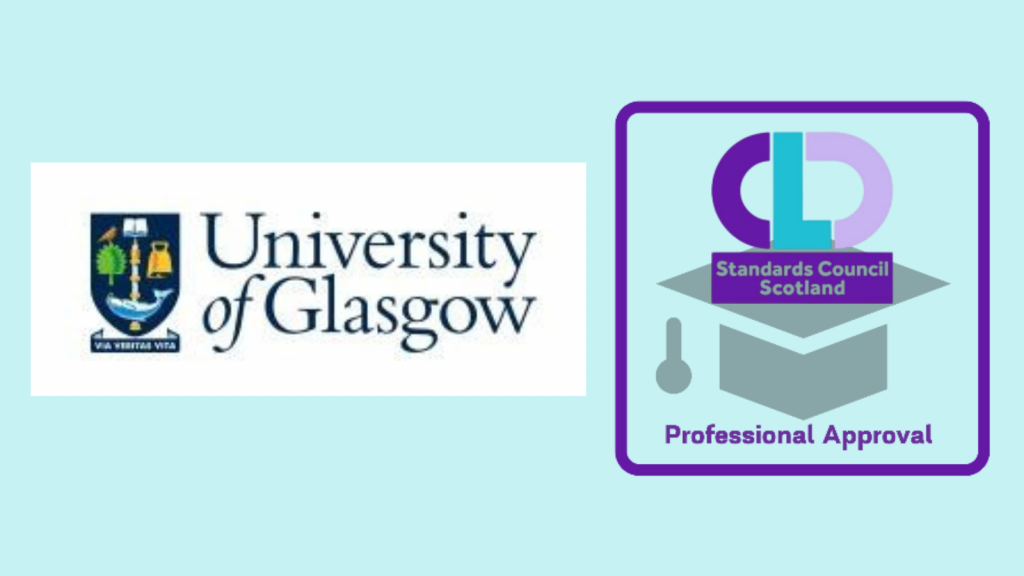 ---
CLDSC on the road again!
We were delighted to take CLDSC on the road again this week for the first time since 2020 with a stall at the Development Trust Association Scotland (DTAS) annual conference. You can follow what happened at the conference by searching #DTAS22 on Twitter.
 
We were able to connect with community development volunteers and staff throughout the day, giving them information on the benefits of CLDSC membership, details about how to gain Standards Mark for their organisations and signposting a range of professional learning opportunities.
 
We're looking forward to conference season this autumn to continue getting back 'out there' in person.
 
If you are hosting an event or conference and would like a CLDSC information stall, please get in touch by emailing contact@cldstandardscouncil.org.uk.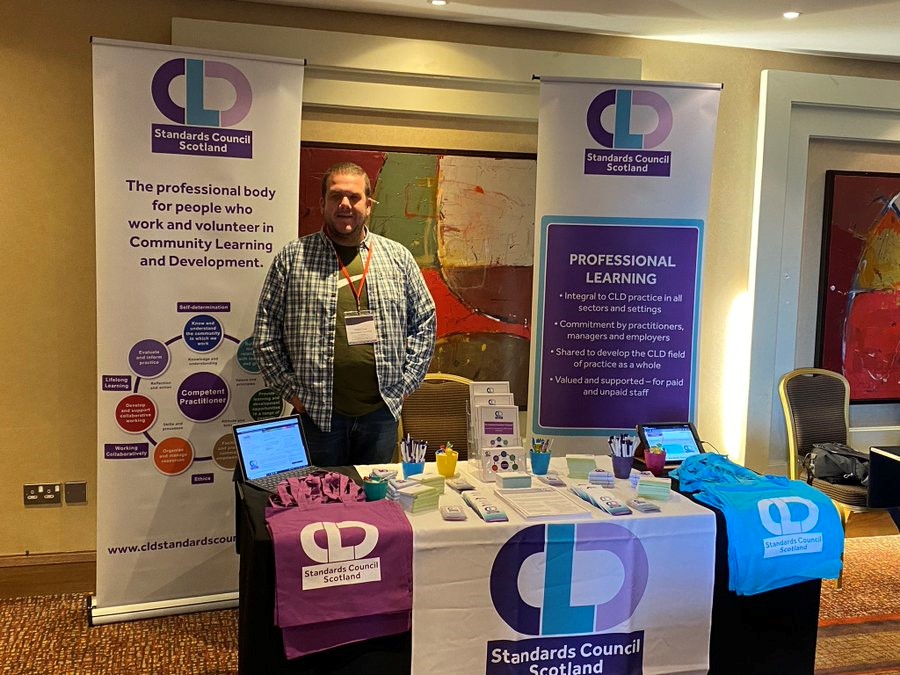 ---
Scotland's Policy Conference
Last week our Director, Dr Marion Allison, joined Councillor Susan Aitken, the leader of Glasgow City Council and Ms Kaukab Stewart MSP, Deputy Convenor of the Education, Children and Young People's Committee to present at Scotland's Policy Conference about Glasgow's Economic Renewal. Marion highlighted the role CLD plays in meeting the learning needs of young people, adult learners and communities and considered how wider the use of micro-credentials and the Scottish Credit and Qualification Framework could contribute towards improved democratic engagement, socio-economic outcomes and a move towards a wellbeing economy.  
---
CLDSC Virtual Members Meet-up – 4 October, 1pm
Come and join us for a special virtual members meet-up in October, and bring along your non-CLDSC pals too! We're having an open session (so members and non-members alike can attend) to hear all about our recently published CLDSC Annual Report. It'll also be your opportunity to feed into the plans for 2022-2023, hear about our upcoming conference, and talk directly to the CLDSC staff who will be delivering services for you.
Topics will include a look back at 2021-22, plans for the future, an update on the CLDSC staffing structure, and a chance to hear about our committee work and how you can get involved.
We also want this to be an opportunity to sign up new members, so if you know anyone who works in CLD who isn't yet a member please bring them along too.
Register for the October Virtual Members Meet-up on EventBrite.

And Thank You
Thanks to everyone who attended the September Virtual Members Meet-up. We had an in depth and insightful discussion around some of the consultation questions posed in the Mental Health and Wellbeing Strategy Review which impact on CLD practitioners. Your valued input, along with the outcomes questionnaire will help form CLDSC response on behalf of members.
---
SLF 2022 – CLD Focussed Sessions
The learning from the past two years of the pandemic has strengthened the view that placing the humanity of education at the centre is a crucial message for Scottish education at all sectors and stages. This year's theme for the Scottish Learning Festival is Being Me, Being Us: Placing learners at the heart of Scottish Education.
Find out more and register for the CLD focussed sessions on offer: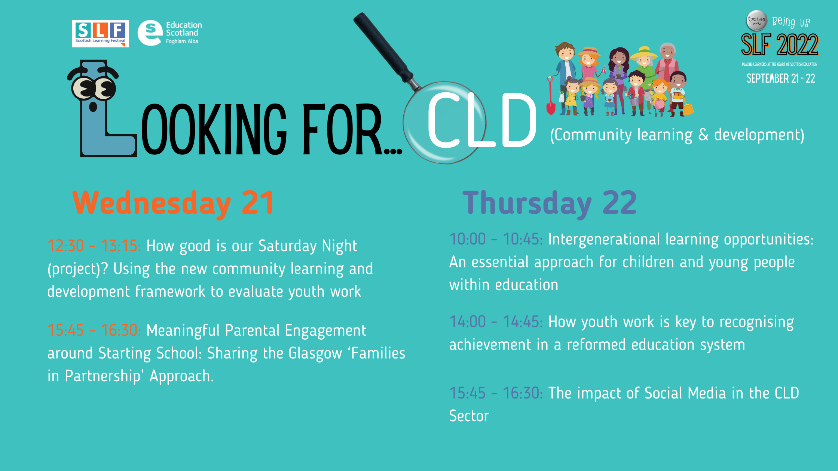 Wednesday, 21st September
12:30-13:15 How good is our Saturday Night (project)? Using the new community learning and development framework to evaluate youth work.
15:45-16:30 Meaningful Parental Engagement around Starting School: Sharing the Glasgow 'Families in Partnership' Approach.
Thursday, 22nd September
10:00-10:45 Intergenerational learning opportunities: An essential approach for children and young people within education.
14:00-14:45 How youth work is key to recognising achievement in a reformed education system.
15:45-16:30 The impact of Social Media in the CLD Sector.
And you can also sign up for the in person satellite events (or watch them live streamed) taking place across the country.
---
CLD Talks Podcast
They have Talks with front line community workers from third sector and statutory organisations, managers and decision makers to share practice, promote their work and some feel good moments of their careers. It's now in its 5th season and in this week's episode, Conor is joined by Suzanne Clark, Service Manager and CLDSC member Kieran Wardrop, Team Co-ordinator, from Vibrant Communities in East Ayrshire. Listen in to hear all the chat about Vibrant's origins, how they have developed and so much more!
Access the CLD Talks podcast where you will find all streaming platforms and follow CLD Talks on Twitter @CLDTalks to join in the conversation.
---
Free Numeracy Training for CLD Practitioners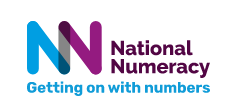 Community Learning Development (CLD) Practitioners and STEM Ambassadors in Scotland – are you interested in FREE numeracy training?
Are you a CLD Practitioner who is interested in easing anxiety in #numeracy and #Maths with young people?
Are a CLD practitioner working in Scotland and are interested in getting involved or finding out more about the project? If you're based in the South East of Scotland, the next programme begins on 18 October 2022, and anyone can attend the programme starting on 1 December 2022.
You can find out more by emailing training@nationalnumeracy.org.uk or register for the free training at the National Numeracy website.
---