Thanks! CLDSC Members Short Survey – Planning for 2022
We would like to say a huge thanks to every one of our members who participated in completing the CLDSC Members Short Survey that closed for response on Friday 29th of April. We received approximately 200 completed responses to the survey.
The survey results are crucial for us to understand the views of our members on activities that took place across 2021, and to inform forward planning into 2022 and onwards – so that our work continues to reflect the needs of our members.
Here are a few examples of positive comments that were noted already from the free textbox areas:
Question: What additional CLDSC members services (if any) do you feel would be of benefit to your professional development?
Responses
'Promotion of the Professional Induction Programme and Professional Review Process'
'Local area CLDSC meetings'
'Continued aware raising and importance of being a CLDSC member, also the benefits of membership'
General Feedback
Responses
'The CLDSC offer an invaluable service and continued support to CLD practitioners across Scotland'
'Wellbeing activities were much appreciated at the time of most stress but actually I also felt more connection to the CLDSC and CLD colleagues as a result'
'I can't wait to get back to some in person events!'
---
Scotland's new Adult Learning Strategy
This week sees the much anticipated launch of Scotland's first Adult Learning Strategy by the Scottish Government. The strategy delivers on a 2019 Programme for Government and sets out Scottish Government's ambitions for Adult Learning over the next five years. A launch event (in person and virtual) will be held on 29 June. An Easy Read version of the strategy is available and alternative formats are available upon request.
---
Virtual College Expo22 – Speakers Announced
The Virtual College Expo22 will take place on Tuesday 14 and Wednesday 15 June 2022 with the theme: Rewrite the College Story: Learning Experiences, Skills Development, Anchoring Communities.
Keynote speakers include well-known Scottish actor Danielle Jam; Jamie Hepburn MSP, Minister for Higher Education and Further Education, Youth Employment and Training; Fiona Robertson, Chief Executive of SQA; and Dr Mike Cantlay OBE, Chair of the Scottish Funding Council.
Follow on Twitter @ColDevNet using #CollegeExpo22
View the programme and book your free place.
---
Scottish Charity Awards – finalists announced!
The Scottish Charity Awards recognise and celebrate the best that Scotland's voluntary sector has to offer and CLD Standards Council is proud to be sponsoring the Community Action Award at this year's #ScotCharityAwards. The Awards Ceremony will be held on Wednesday 15 June 2022 with the winners being announced on the night. View all 44 finalists and learn about the positive impact they have been making !
Meantime, members of the public can vote for their favourite overall entry in the People's Choice Award. You only have one vote – so make it count, and vote for your favourite today!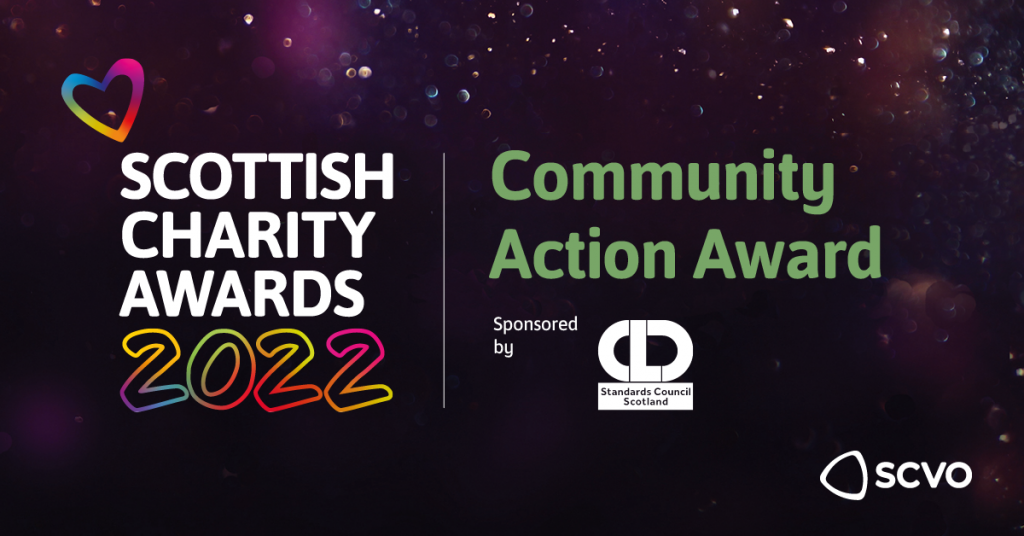 ---
SCQF Online Workshops
Two SCQF workshops taking place online in June are open to CLD practitioners:
Would You Credit It? Thurs 9th June 2022, 10:00am – 4:00pm
This online workshop (split into 2 x 2 hour sessions) is designed to support individuals and organisations who are developing, or who already have, a learning programme which they are considering having Credit Rated for the SCQF. This workshop is aimed at organisations who are in the process of developing a learning programme and are considering having it Credit Rated for the SCQF.
My Skills, My Future Thurs 16th June 2022, 10:00am – 3:00pm
An interactive online workshop (split over a morning and afternoon session) for those wishing to use the 'My Skills, My Future' suite of resources to support individuals in identifying the skills they have gained from other experiences outwith formal qualifications. This workshop is aimed at those involved with Community Learning, Developing the Young Workforce, or who provide careers advice and guidance. It helps advisers become familiar with, and understand the benefits of, the 'My Skills, My Future' resources in order to use them to help and guide a wide range of individuals.
---
Neurodiversity Training Programme: Summer 2022
Salvesen Mindroom Centre are delighted to announce the launch of their 2022 summer training programme. Details are provided below:
Course name: It Takes All Kinds of Minds: Supporting neurodivergent children and young people
Date: 26th May 2022 at 10.00 am – 16.00 pm
Course name: It Takes All Kinds of Minds: Supporting neurodivergent children and young people
Date(s): 8th, 9th & 15th of June 2022 at 15.00 pm – 17.00 pm
Notes: This course will be delivered over three sessions and participants will be required to attend all sessions.
Course name: Neurodiversity and why it matters
Date: 31st of May 2022 10.30 am – 12.00 pm
Course name: A very brief history of neurodiversity (Free webinar)
Date: 7th of June 2022 at 14.00 pm – 14.30 pm
Course name: Hidden in plain sight: Neurodiversity, Women & Girls
Date: 9th of June 2022 at 10.00 am – 13.30 pm
Course name: Introduction to supporting neurodivergent employees
Date: 23rd of June 2022 at 10.00 am – 12.30 pm
Course name: Introduction to Universal Design for Learning
Date: 29th of June 2022 at 10.00 am – 13.30 pm
Coming soon
Introduction to supporting disclosure
Challenging stereotypes: Alternative presentations of autism
Please note – there are fees for some of this training.
For further information or to book a place please visit the Salvesen Mindroom Eventbrite page.
---
Mental Health Awareness Week 9-15 May 2022
Mental Health Awareness Week is an annual event with an opportunity to focus on achieving good mental health.
The theme this year is loneliness and the aim of the week is to raise awareness of the impact of loneliness on our mental wellbeing and the practical steps we can take to address it. During Mental Health Week use the hashtag #IveBeenThere to share experiences of loneliness to support others.
Please make the most of our member offers to link with colleagues from across Scotland.
You can also sign up to walk, run or jog as part of the 80 miles in May challenge and share your photos using #80MilesinMay and #MentalHealthAwarenessWeek.
NHS Inform – Healthy Living has information on what you can do to look after your mental and physical wellbeing.
Breathing Space has a helpline which is open Monday-Thursday from 6pm-2am and Friday-Monday from 6pm-6am. Call free on 0800 83 85 87.
The Mind mental health charity helpline is open Monday-Friday 9am-6pm. Call 0800 123 3393.
---
STOP PRESS Digital Competence Survey – We need your views!
As you may know, CLD Standards Council is undertaking a review to ensure that digital skills, knowledge and competence is embedded and visible across our Competent Practitioner Framework. This is one of the priorities highlighted by Jamie Hepburn, Minister for Higher Education and Further Education, Youth Employment and Training, in the CLD Digital Investment funding announcement made in December 2021.
We held a series of focus groups in March and based on feedback from those, we now want to offer an opportunity for CLD practitioners in adult learning, community development and youth work settings to participate in an online survey.
We want to hear your views and all CLD practitioners (staff and volunteers across all areas of delivery) are encouraged to participate.
The CLD Digital Competence Survey should take around 10-20 mins to complete and will be open until Friday 27 May 2022.