Modern Apprenticeships Community Development
Scottish Vocational Qualifications (SVQs) in Community Development Work have been available for a number of years, but have not been widely used. A review of the SVQs was undertaken and SVQ Community Development level 5 and 6 were approved by the Scottish Qualifications Authority (SQA) in 2018.
Since 2018, CLDSC have been working with SQA, Skills Development Scotland (SDS) and Skills for Justice to reach agreement that Skills for Justice would be the certification and registration body for the Modern Apprenticeship Community Development. This is now in place and the Modern Apprenticeship will be available.
Find out more about Modern Apprenticeships for Community Development.
For those training providers who are currently approved delivery centres for SVQ Community Development or training providers who may wish to seek agreement from SQA to become a delivery centre, more information is available on the SQA website.
---
Your CLDSC needs your help! – Professional Practice Placement Standards
The CLDSC showcased the Professional Practice Placement Standards in our 19 January 2022 Member Bulletin and set up the new page for Practice Placements on the CLDSC website.

The page includes resources to support you in your practice placement involvement, whether as a student, an employer, a supervisor or an educational provider. It is important that these standards and resources work for the CLD sector and the only way to know that is to get feedback on their use. Go on give the resources a try! And feed back to us with your thoughts at contact@cldstandardscouncil.org.uk.
---
CLDSC Face Masks – First Come First Served!
As part of the goody bag following the CLDSC Conference in December, we sent out some rather lovely and practical CLDSC branded face masks. We have a number of these left over and so if you would like one, please email us at contact@cldstandardscouncil.org.uk. This is on a first come first served basis, so if you want one, be quick to send in your email.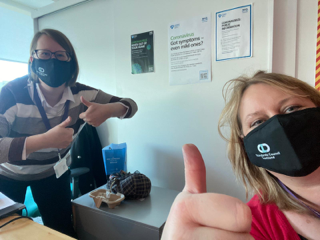 ---
Free Accredited Online Learning Microcredentials – application deadline extended!
The Open University in Scotland (OUiS) is offering a number of fully funded places on their online learning Microcredentials courses for those working in the CLD sector. These courses provide strategic skills for practitioners in any learning environment, in community or online and have been identified as relevant to CLD practitioners by the CLD Standards Council. They will help you to develop online programmes for learners which are accessible and inclusive while also focusing on key thematic priorities for the sector.
The courses available will allow you to look at how you can deliver a more digitally accessible service, while broadening your reach to more young people, adults, families and community groups.
The courses on offer are:
Online Teaching: Creating Courses for Adult Learners
Online Teaching: Evaluating and Improving Courses
Online Teaching: Accessibility and Inclusive Learning
Teacher Development: Embedding Mental Health in the Curriculum
Online Teaching: Embedding Social, Race and Gender-Related Equity
These courses are at postgraduate level and will start in March 2022 and run for 12 weeks.
If you missed the CLDSC Virtual Member Meet-Up or the Education Scotland CLD webinar about the CLD Digital Portal and the range of microcredentials, you can view a session recording on Education Scotland's YouTube Channel. Information about the Microcredentials is 8:05 minutes into the recording.
For more information and to apply, please visit OUiS Microcredentials for CLD. The deadline for applications is Sunday, 27 February 2022.
---
Time For You – Free Mental Health and Wellbeing Support
Have you, your staff or the people you support, had a hard time during the pandemic? If so, the Scottish Association for Mental Health (SAMH) is providing a new, free service which frontline workers can access right now!
The Time for You service offers instant access to free mental health and wellbeing support for frontline workers in Scotland. There are three levels of support to choose from: online self-help, guided self-help and one-to-one therapy.
You can find more information at Time for You.
---
DyslexiFest, 9 March 2022
Dyslexia Scotland is proud to host DyslexiFest online on 9 March 2022. This one-off event focuses on mental health and dyslexia and features an expert panel discussion and an exclusive preview of an upcoming Scottish documentary on the issue. Penny Aston of GroOops and Professor Amanda Kirby join dyslexic adult Keith Macaldowie and filmmaker Trevor Thomson to explore the barriers, stigma and challenges that affect dyslexic adults' mental wellbeing.
Register for DyslexiFest on Eventbrite.
For all of Dyslexia Scotland's free events, visit the Dyslexia Scotland website.
---