Virtual Member Meet-up – 1 February 2022, 1pm-2pm
If you would like to find out more about the CLD Digital Workforce investment and have a guided tour of the digital portal being created by the Open University in Scotland, please come along to our February Virtual Member Meet-Up.

There are three initiatives being funded through the investment:
Development of digital competences creating a sustainable resource that will set out clear principles and expectations for CLD delivery in the digital age.
Development of an online portal for the CLD workforce, focusing on digital skills, confidence and taking teaching online.
Development of a Digital CLD Award which will seek to recognise the ways that CLD services and organisations promote effective use of digital technologies to enhance learning opportunities in youth work, adult learning, and community development programmes.
Kirsty Gemmell has been seconded to an Education Officer (Digital) post for 6 months. In co-production and consultation with the CLD sector and stakeholders, Kirsty will take forward the development of digital competences.
Register on Eventbrite to join the Meet-Up.
---
Remember to record your Professional Learning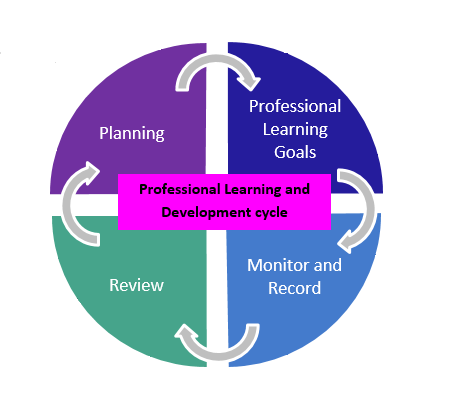 Keeping records of your professional learning is an important part of the professional learning review cycle.
They hold information for the review of your professional learning and development that can be easily forgotten.
As well as ideas for learning topics you might want to develop further in planning future goals. You might also be asked to supply them at membership renewal time! 
The CLD Standards Council provides templates for recording your professional learning goals and activities, which you can find on i-develop along with further PL advice and guidance. 
Members do not have to use the templates we provide if you have an alternate system, maybe from your employer – the important thing is to keep the record and reflection. So you should use whatever tool or mechanism suits you best.
You can also store your PL records on the E-Portfolio area of i-develop, (this options appears under the "My CPD" tab once you log in). Contact us if you are having difficulty logging in contact@cldstandardscouncil.org.uk.
---
CLD Plans 2021–2024
The 2021–2024 CLD plans describe priorities of CLD partners in each local authority area. The needs of learners and communities should clearly inform priorities and there should be evidence of effective community engagement which is enabling learners and groups of all ages to have ownership of CLD priorities in the area.
Links to plans from every local authority area in Scotland are available on the Education Scotland National Improvement Hub.
---
Scottish Education Awards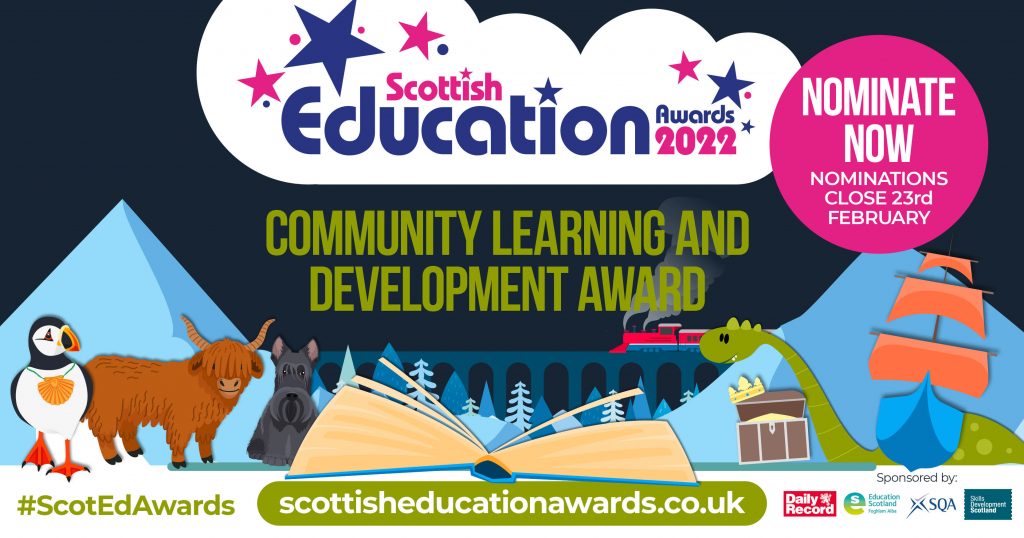 Nominations are now open for the Scottish Education Awards.
There is a dedicated CLD category which recognises and celebrates the integral contribution of CLD to improving the educational outcomes and life chances of children and young people. Please take some time to nominate a CLD practitioner or piece of work.
When making an nomination, please consider:
How you are focusing on addressing inequalities (e.g. poverty, disability and health related inequalities, narrowing the attainment gap)?
How you have identified and overcome barriers to engagement?
How you have developed your approach to collaborative working?
How have children, young people and learners been involved, in developing and delivering projects and activities?
The closing date for nominations is Wednesday, 23 February 2022.
---
Scottish Men's Shed Association in Scotland
This event taking place on 1 February 2022, 4pm-5.30pm will shine a spotlight on Scottish Men's Shed Association in Scotland – highlighting the impact on individuals and wider communities in the context of Community Learning and Development.
The event will showcase footage filmed recently at Inverclyde Men's Shed to tell the story of the Shed's impact on individuals and the wider community. Speakers include Jason Schroeder, Chief Executive Officer of Scottish Men's Sheds Association and Dr Danielle Hutcheon from Glasgow Caledonian University.
Register for this session on Eventbrite.
---
Climate Emergency Training for Youth Workers
Register now for this free, essential, climate emergency training for Youth Workers and those working with young people. Gain an understanding of the climate emergency: this course will equip you with the skills and tools you need to support young people in climate action. Following COP26 it has never been more important to support young people's concerns about climate change and turn it into positive action.

Not only will you gain knowledge, skills and some real-life ideas for communicating and working with young people on this topic, but for those who successfully complete the course, you have the opportunity to earn a certificate of Carbon Literacy – a vital qualification for supporting young people in climate action.
The training is part of the Scottish Government funded COP26 Youth Climate Programme and is being delivered by Keep Scotland Beautiful and YouthLink Scotland.
New February and March training dates have just been released! 
Find out more and book your place at the Keep Scotland Beautiful website. 
---
SVQ in Youth Work Update
The re-accredited SVQs are available now. Centres which meet the criteria for currently approved centres will be granted automatic approval to deliver the new SVQs upon signing up for the revised Assessment Strategy.
The new codes are as follows and were accredited on 1/12/2021 until 31/12/26:
SVQ 2 in Youth Work at SCQF level 6 GT3H 22
SVQ 3 in Youth Work at SCQF level 7 GT3G 23
For further updates and information visit the SQA website.
---
Digitally Enabled Learning Platform
The Digitally Enabled Learning Platform (DELP) gives anyone 25 or over, living in Scotland, free access to LinkedIn Learning and FutureLearn courses. Linkedin Learning offers a catalogue of almost 17000 expert lead video training resources and FutureLearn over 1000 upgraded short courses.
Funded by the Scottish Government's National Transition Training Fund (NTTF), the aim is to help people develop new skills and support transitions into job opportunities. Up to 20,000 licenses will be available in the initial phase and will allow people to access multiple courses until 31 July 2022.
The courses may be of benefit to both practitioners and the adult learners they are working with. The training varies from in-depth to introductory, covering a range of subjects including business, management, technological and creative skills and sustainability. At a range of educational levels, they can be used to enhance existing skills or to explore potential new career paths.
To access the material, eligible users need to register for a My World of Work Careers account at My World of Work. They can then request an unlimited license to LinkedIn Learning and/or upgraded access to the FutureLearn short course of their choice.
The 'Learn and train' content at My World of Work has also been updated 
making it easier than ever to find the right learning opportunity. In addition to LinkedIn Learning and FutureLearn, there is access to other NTTF funded opportunities including the Women Returners Fund, SDS webinars and information on a range of ways to develop their skills.
---