Our Five Star Review of a 5 Star Event:
Earlier this month, the CLD Standards Council were delighted to join The Gathering in Edinburgh with over three thousand people from Scotland's third sector.  For the first time ever, we hosted our annual member conference events as part of SCVO The Gathering. We held 3 Conference Workshops and our Annual Evening Lecture where over 200 delegates took part. From our perspective, it was a five star event worthy of a five star review.
The First Minister stops by the CLD Standards Council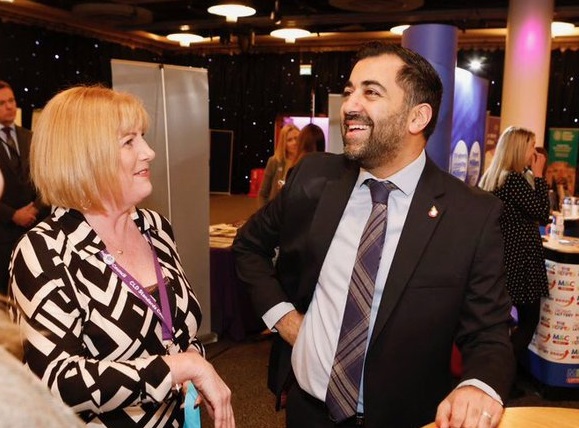 In his keynote speech, First Minister Mr Humza Yousaf M.S.P. reflected on his positive experience of community work and the importance of communities in Scotland's future.  We were therefore delighted when he took the time to say hello to the team at our information stall.  We were proud to showcase our work as the professional body for CLD in Scotland and give him a goody bag full of information about our workforce, members, services and impact.
CLD Researchers Shaping Practice
The body of academic research covering CLD in Scotland is alive and kicking. It was an honour to hear from Dawn Brown, Beth Parker and Laura Sutherland who not only shared their research findings but inspired the standing-room only space with their journeys and experiences of post-graduate study.  Afterwards, it was amazing to hear so many participants say "I think I'll look into doing my Masters".
CLD Career Pathways
With so many career options for CLD practitioners across the public and third sectors our jam-packed workshop highlighted just some of the CLD qualifications, mentoring and professional learning activities available to members. CLD practitioners from a wide range of practice areas shared their volunteering and career pathways.  In the evening, the career spotlight was most definitely on Dr Annette Coburn who delivered the CLD Annual Lecture, CLD – "Live Long and Prosper". It was enlightening, informative, challenging and entertaining.
We took the Conference to the People
Having one CLD Standards Council annual event is never enough, so this year we tried something different and took the conference to the people.  In addition to raising the profile of CLD and promoting membership, we met with many CLD practitioners, some who were lone-practitioners working in small social enterprises or voluntary organisations. It was good to hear people saying they felt enthused and included by re-connecting with the CLD competency framework and of course the CLD Standards Council!
CLD Standards Council: More Members More Clout
From being at The Gathering and listening to participants, workshop holders and guest speakers it is clear that Scotland's need for CLD: adult learning, CLD: community development and CLD: youth work is stronger than ever. The number of people volunteering and working across these sectors is growing alongside the demand for the CLD competency framework.  Just one of the benefits of Membership is being a voice for the CLD sector and we were delighted to welcome new members that reminded us that #BecauseOfCLD #MoreMembersMoreClout ! Join us!
Check out full details, all our conference materials and presentations on our I-develop Conference 2023 page.