News from the CLD Standards Council
Much excitement within the team this week as we are busy bees planning and developing the CLD Standards Council's Annual Conference (1 & 2 Dec). Registration to attend in person has now closed, but you can still register to attend online – see article below to register.
Working Together for CLD
Fantastic meet up with our CLD colleagues from Education Scotland CLD team and HMI CLD team, with important discussions around Education Reform, CLD Regulations Review, Professional Learning & Leadership and CLD Plans, and of course plenty of tea, coffee and cake to go round!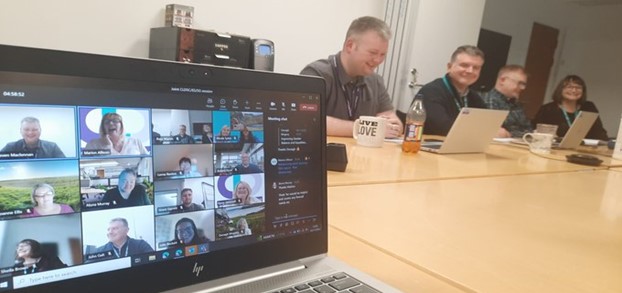 ---
CLD Standards Council – Annual Lecture and Conference, Edinburgh, 1-2 December 2022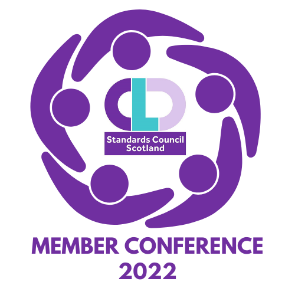 Registration for in person attendance is now closed and we are working on finalising workshops. However, if you'd like to join us online for the Lecture and/or the Conference, there's still time to register here!
Please join us – it's all about you and it's a belter 😊
Register to attend online for the Annual Lecture and Members Conference 2022
Remember it's free 😊 and don't forget to follow and comment on Twitter #CLDSCConf2022.
---
CLD Standards Council: Have Your Say: National Discussion on Scottish Education, 18 November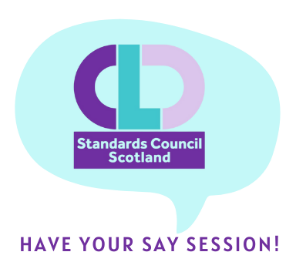 As CLD Practitioners across Scotland we want your thoughts to form a CLD Standards Council Members response. It is critical that CLD helps develop a vision for the future of education in Scotland. What kind of education, skills, knowledge and support do you think learners of all ages will need 20 years from now?
Education doesn't just happen in school so join our sessions and have your say! Register on EventBrite for one of the two sessions below:
Have Your Say: National Discussion on Scottish Education – 18 November 2022, 10.30am-12pm
Have Your Say: National Discussion on Scottish Education – 18 November 2022, 2pm-3.30pm
---
Leading CLD Professional Learning Opportunity – registration open
The next round of this programme, which was co-designed with CLD leaders from across Scotland, will begin in January 2023. It is facilitated in partnership with Education Scotland, CLD Standards Council, further education and national organisations and local authority CLD leaders and is designed to build confidence in CLD leadership.
The target participant group for this round is senior local authority managers responsible for CLD services, who have identified CLD leadership as an area for professional development. (This includes managers with no, or little previous experience of CLD; and those interested in developing their leadership capital and professional network).
Find out more about the Leading CLD Course and how to apply. The application deadline is 1 December 2022.
---
National Occupational Standards (NOS)
Our work on the three NOS projects is gathering momentum. The views of practitioners, employers and training providers have been gathered through a series of focus groups across the UK. Further opportunities are available to get involved in the next round of focus groups over December 2022/January 2023. Read on for some of the emerging themes so far:
Community Development Review
Reaffirm the purpose and values of community development practice
Pay attention to how the standards reflect the values of community development
Consider the inclusion of climate justice and emphasising community development for social change
Register for the next Community Development NOS focus group on Monday, 5 December 2-4pm
Adult Learning Creation
Key functional areas could include: Reflective Practice; creating a supportive learning environment; and partnership working
Consider how best to include anti-discriminatory practice
Ensure learners are at the centre
Register for the next Adult Learning NOS focus group on Friday, 13 January 2023 1-3.30pm
Family Learning Review
Health and wellbeing agenda for families and practitioners should be embedded throughout
More input is needed from school and early learning practitioners, so if you have contacts, please let them know
New standards around developing yourself as a family learning practitioner should be included
Register for the next Family Learning NOS focus group on Wednesday, 18 January 2023 3.30-5.30pm
You can also contribute via the online survey which will open in January – keep an eye on the Member Bulletin for details in the new year.
---
CLD Standards Council Executive Committee – Recruitment Extended
The CLD Standards Council supports practitioners to bring to the fore their professional values, ethics and competence when working with young people, communities and learners. To enable us to do this effectively we are now recruiting for 4 new members of the CLD Standards Council Executive Committee.
The Executive Committee has a key role in setting and developing the strategic direction for the CLD Standards Council and seeks to build the capacity of the organisation to act in a responsive, accountable and effective way. The Executive Committee provides advice and support to the Chairperson, and is in a position to offer constructive challenge to the operations of the organisation, providing both the Director of the CLD Standards Council and other key stakeholders, such as Education Scotland and Scottish Government, with an independent perspective.
The closing date for applications has been extended to Friday, 9th December 2022.
Full application and contact details can be found on our Recruiting for the Executive Committee webpage.
Further information on the work of the CLD Standards Council can be found by visiting our website at www.cldstandardscouncil.org.uk or by following us on Twitter @cldstandards.
---
News from the CLD Sector
Education Scotland, in partnership with Fife Professional Learning and Leadership Continuum, are offering this accredited coaching programme with a focus on self-care and wellbeing. Register your interest as deadline for applications is 21st Nov 2022.
NATECLA Scotland want to hear from CLD ESOL practitioners & what you get up to – would you consider writing short piece? View the stories they have already collected.
Simon Community Scotland has launched its emergency Winter Crisis Appeal 2022 to help provide support following a huge increase in demand for its services, looking for donations to help provide Crisis Packs for people struggling amid the cost of living crisis.
YouthLink, in partnership with Education Scotland and the Scottish Government we are now excited to offer an online learning opportunity "The Realising and Recognising Children's Rights (RRCR)" Youth Work Resource.
Socioeconomic factors play a critical role in influencing health and health inequalities. Fraser of Allander Institute has published new research examining what's happened to key socioeconomic determinants of health in Scotland in recent decades.
---