News from the CLD Standards Council
Steven and Kirsty had a very heartening and productive meeting with Volunteer Scotland, discussing some of the critical issues regarding supporting CLD volunteers, specifically the processes and procedures needed to ensure safe and effective CLD volunteering opportunities across Scotland.
Everyone who is in anyway connected to the sphere of education is participating in the National Discussion on Scottish Education. The CLD Standards Council believes that the essential role of CLD and the views of our sector must be included to influence real change for our learners, communities and young people.
This week Vikki hosted two "Have your Say" sessions and a huge thank you to all who came along. There were some very rich, varied and interesting discussions and there is still time for you to contribute. Join us and discuss directly with Professor Alma Harris next week – you can register below.
---
CLD Standards Council: Have Your Say: National Discussion on Scottish Education, 28 November, 12.30pm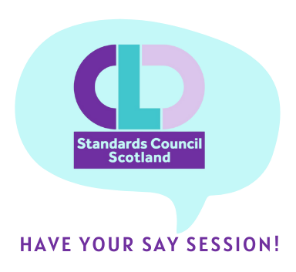 Last chance to join us on 28 November at 12.30pm to discuss the critical role CLD has within Scottish Education for learners of all ages in the future.
Join our final "Have Your Say" session and discuss directly with Professor Alma Harris.
To register your interest please email contact@cldstandardscouncil.org.uk.
---
CLD Standards Council – Annual Lecture and Conference, Edinburgh, 1-2 December 2022 – last chance to register!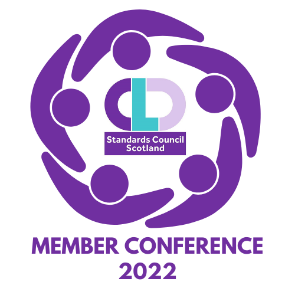 Come along and hear the keynote speeches from:
Professor Ken Muir (Lecture – 1 December 2022),
Alan Sherry, Chair, CLD Standards Council (Conference – 2 December)
Sara Thiam, Chief Executive SCDI (Conference – 2 December).
If you can't attend, why not follow and comment on Twitter #CLDSCConf2022.
---
National Occupational Standards (NOS)
Our consultations on the three NOS projects have had input from over 100 people so far, but we want more! Share your views by joining one of the upcoming focus groups:
Community Development Review
Tell us what you think about the Purpose and Values of Community Development by completing this short survey by 2 December, and why not
register for the next Community Development NOS focus group on Monday, 5 December 2-4pm.
Adult Learning Creation
Register for the next Adult Learning NOS focus group on Friday, 13 January 2023 1-3.30pm
Family Learning Review
Register for the next Family Learning NOS focus group on Wednesday, 18 January 2023 3.30-5.30pm
---
CLD Standards Council: Member Meet-up – December: Cost of Living Crisis, 8 December, 1pm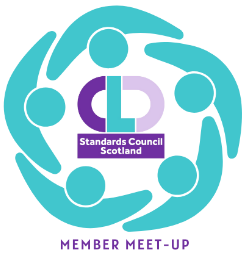 For our December Member Meet-up, we'll be talking about the cost of living crisis. What effect is the crisis having on you, the learners you support, and the ways in which you support them?
We're really keen to know if you've had to adapt what you do and how, as well as if the crisis as a whole is having a negative impact on participation in CLD services. Come along, tell us what you're doing and how it's affecting CLD in your area!
Register for the December Member Meet-up on Eventbrite.
---
News from the CLD Sector
#CoProWeekScot22. Bringing people together to share ideas, learning and stories about how co-production puts people and communities at the heart of the support and services they're part of, exploring how to put co-production into practice.
Scottish Recovery Network "Let's do Peer Group Facilitation" guides have been co-designed with people already delivering or about to deliver their own peer support groups.
At the Scottish Refugee Council buildings, Wednesday, 7th December, 10am-12 Noon. Speakers and representatives from SURF, CLD Standards Council, BEMIS, SCDC, Marie Curie, Scottish Refugee Council, SCDN, CLDMS and lots more! Email cdascotland@gmail.com to register.
Becoming an Anti-Racist Adult Education Practitioner Podcast. An anti- racist practitioner is one who creates safe spaces in classrooms to discuss and interrogate racism. This podcast centres around the in-conversation piece held between Dr Stephen Brookfield and Lilian Nwanze during part 2 of the Community Education Webinar Series: Becoming an Anti-racist Adult Education Practitioner.
---