Adult Learning Strategy Launch Videos
Following the launch of the Adult Learning Strategy on 29 June, the recordings of the session are now available on i-develop. We are also pleased to welcome Simon Ashpool, from the CLD Policy Team in Scottish Government, to host our August Virtual Members Meet Up which will focus on the Adult Learning Strategy and workforce development in CLD. You can sign up for the event on the August Virtual Members Meet Up EventBrite page.
Watch the introduction from Mhairi Harrington OBE, Chair of the Adult Learning Strategic Forum for Scotland followed by Jamie Hepburn MSP, Minister for Further Education, Higher Education, Youth Employment and Training.
Watch recordings of the workshops centred around each of the Strategy's key themes.
---
CLD Career Day
Following feedback from our further and higher education partners, we are delighted to announce that the CLD Standards Council will be hosting our first CLD Career Day in Autumn 2022. The purpose of the event will be to promote all aspects of Community Learning & Development as a career. We will have employers, education providers, student support providers, CLD partnerships and alliances all in one room where current and prospective CLD students can hear all about the opportunities available to them in the CLD sector
We will be releasing details of the event soon, including a 'Save the Date!' and information on the location. In the meantime, if you would like to be involved in shaping the event and contributing ideas, please contact us at contact@cldstandardscouncil.org.uk by 15 July and we will be in touch!
---
CLD Standards Council Conference 2022 – 2 December – Save the Date!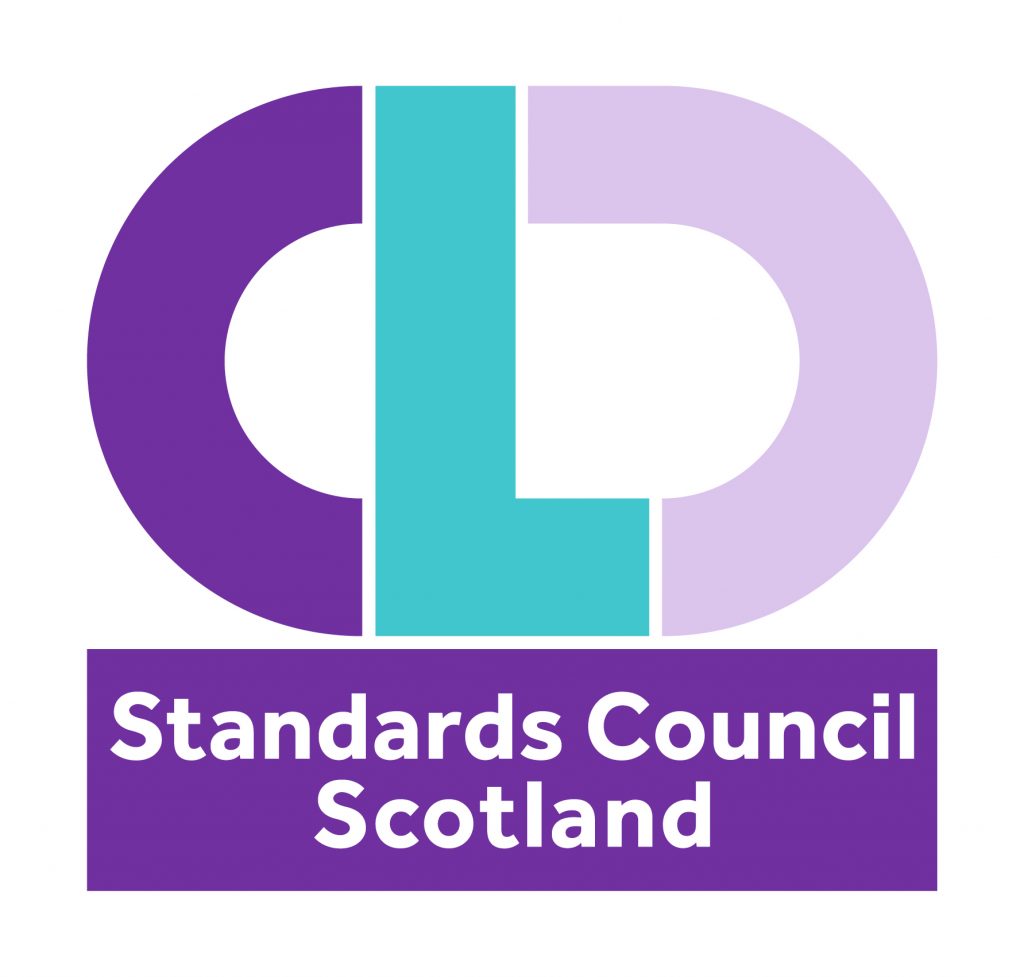 Our Annual Members Conference this year will be held on Friday, 2nd December 2022. We plan to make it a hybrid event with the option to attend in person at the John McIntyre Conference Centre in Edinburgh. There will also be a conference-eve lecture at the venue on the evening of Thursday, 1 December 2022.
Book the date(s) in your diary and keep a look out for the conference registration opening after the summer.
Please note, the conference is for members of the CLD Standards Council. If you or a colleague are not currently members and would like to attend, find out how to apply for membership.
---
Community Development Alliance Scotland (CDAS) Annual National Conference 2022 – Save the Date!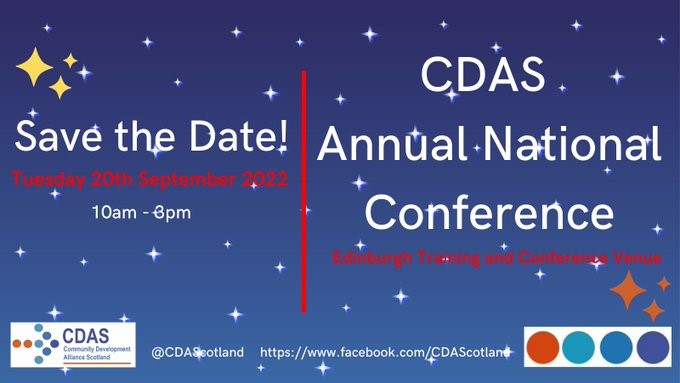 CDAS have announced that their Annual National Conference will be held on Tuesday, 20 September 2022, 10am – 3pm in person in Edinburgh. The event will include workshops, speakers and participation from a number of CDAS membership organisations highlighting the social, environmental, physical and economic impact of community development.
Registration will open soon and you can find out more by following CDAS on Twitter @CDAScotland and through the CDAS Facebook page.
---
National Voluntary Youth Work Organisations Support Fund 2022-2023
The National Voluntary Youth Work Organisations Support Fund 2022-23 is now open for applications! Funded by Scottish Government and administered by YouthLink Scotland, this fund supports workforce development with the voluntary youth work sector. In addition to funding national voluntary sector youth work organisations, the fund this year – for the first time – also offers support to specialist equalities focused voluntary youth work organisations to support them to build on and develop their reach and offer to young people with protected characteristics. Grants of up to £35,000 are available for national youth work voluntary organisations, £10,000 for regional equalities focused organisations, and £5,000 for local equalities focused organisations.

The deadline for submissions is 22 July 2022 and you can find out more on the YouthLink Scotland website.
---
Let's Do Net Zero Community Buildings Fund 2022-2025
Funding from the Scottish Government's Community and Renewable Energy Scheme (CARES) is here to support communities to engage with, participate in and benefit from the energy transition to net zero emissions. The fund opens in May 2022 and is planned to run until the end of March 2025, subject to funding availability.

Funding is available for many types of self-managed community buildings, including:
village halls
community centres
community hubs
sports facilities
faith buildings
Find out more information about the Let's Do Net Zero Community Buildings Fund at the Local Energy Scotland website.
---