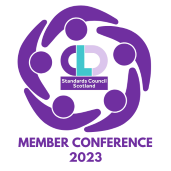 It's the annual CLD Standards Council Member Conference – with a difference! We are super excited to announce that this year we're teaming up with our friends at SCVO and we will host #CLDSCConf2023 as part of The Gathering!
This year the CLD Standards Council will host our usual informative and interactive seminars and workshops during the day on 7 November, followed by our annual conference Lecture in the evening. By hosting our annual conference at the SCVO's The Gathering it means that alongside attending our Conference events, CLD Standards Council members can also experience the fabulous packed programme of workshops, seminars, activities and everything else that is on offer at The Gathering over the 2 days.
Organised by SCVO, the Gathering is the largest free voluntary sector event in the UK, a place for all the amazing people working in the sector to network, showcase what they do and learn from each other. The Gathering takes place over 7 and 8 November 2023 at the EICC, Edinburgh and we have partnered with our friends at SCVO so that we can provide a CLD Standards Council Conference with a difference.
CLD Standards Council will also have a stall in the Exhibition Area for both days, so please pop along and say hello!
Pre-registration for delegates is now open and the full programme will be launched on 22 September when delegates can register for individual events, including our conference workshops, seminars and our traditional evening lecture.
BecauseOfCLD #SCVOGathering

News article from the Member Bulletin August 2023