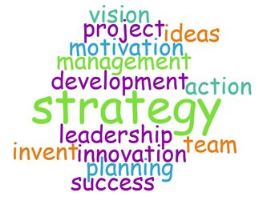 We are currently developing a strategy which will set out our vision and aims for the next 5 years. This is being taken forward with your input at its heart through the contributions you have been making; at our conference; via online consultations; during discussions with CLDSC staff members and partner organisations; at professional learning and approval events; through picking up the phone and having a coffee and a blether; and much more. We aim to have the Strategy approved at our Executive Committee meeting in August 2017. Thank you for all your contributions and support in the creation of our Strategy – you really do 'shape your future'.
The Standards Council has been sharing experiences with colleagues from across Europe. Mike  Naulty (chair of the Professional Learning Committee), Ashley Pringle (chair of the CLD Standards Council) and team members spent a day with 30 visitors from across Europe as part of an Erasmus+ University Study Visit. We explained the role of the CLD Standards Council and had a very engaged dialogue with them about how this related to their own experience. The previous week, we hosted a colleague from the Instituto Politécnico de Coimbra, Portugal. Mario Montez is a teacher and practitioner of sociocultural animation; a number of Standards Council members organised visits and discussions which were a true learning experience for all involved. We hope to build further on these connections.
The revised Community Development SVQs, reflecting the comments and input of CLD Standards Council members involved in reviewing the qualifications, are now approved. The qualifications are at SCQF level 5 and level 6, providing recognised development opportunities for people active in the community or moving into employment in community development.
The potential for a Modern Apprenticeship in Community Development is also under consideration.
Watch this space for more information.
This major new publication from the CLD Standards Council is available to download free at http://www.i-develop-cld.org.uk/course/view.php?id=101.
The book highlights the essential role of CLD, how it has developed over the last decade and a half, and the challenges and opportunities for the profession now. It brings together the key policy and guidance documents across all aspects of CLD, together with original introductory material charting the development of the profession.  There is also a selection of critical comment, research and case studies, highlighting achievements, progress – and some missed opportunities. It identifies key questions and challenges for practitioners, managers and policy makers.
The Panel of speakers : Emeritus Professor John Field; Dr Ian Fyfe; Ashley Pringle; Stuart Hashagen; Marion Allison
Videos of the presentations will be made available on the I-develop page.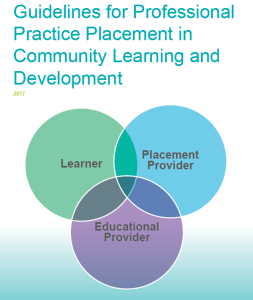 New Guidelines for Professional Practice Placement in Community Learning and Development were launched by the Minister at CLD Standards Council Member Conference on 29 March 2017. The Guidelines will strengthen the link between practice and academic learning and, with sections aimed at learners, educational providers and supervisors, they clarify roles and responsibilities, promoting consistently good practice.
The guidelines are available to download from the website.  Printed copies are also available on request.
It is recognised that the practice placement process is continuously evolving and will require new and refreshed resources to support it, so these will be added in future as they are created.
Map of contacts and events we have delivered or attended since the start of the year