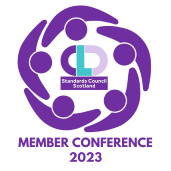 Don't forget to sign up to attend our annual CLD Standards Council Member Conference on 7 November 2023. It's a toofur – 2 for 1 – CLD Standards Council Member Conference AND The Gathering!
More detail on our programme is below:
There are no Career Pathways in CLD – or are there? 
Explore the career pathways that currently exist for CLD practitioners at all stages and identify barriers and solutions to participation.
11am – 12pm
CLD research influencing practice – and vice versa!
Presentations from CLD Standards Council members on research into key issues affecting our sector followed by questions and discussion.
Dawn Brown (MSc) – Understanding the role of community development in supporting recovery in communities post pandemic.
Beth Parker (MSc) – Bringing community development theories and post humanist theories together to underpin outdoor education with women.
Laura Sutherland (PhD) – Understanding the construction and civil engineering industries' contribution to social change through community engagement
1.30pm – 2.30pm
CLD Standards Council – More Members More Clout!
Hear from members of the CLD Standards Council Registration Committee and find out what membership is all about! Explore the work of the Standards Council and learn about all the member benefits. See how membership of this professional body for CLD in Scotland supports the promotion and recognition of the sector as a critical and valued profession.
3pm – 4pm
Evening Lecture – CLD: Live Long and Prosper
Dr Annette Coburn (University of West of Scotland) will encourage us to consider how Community Learning and Development contributes to the wellbeing economy, enhancing the chances for people to live a good life.
4.30pm – 7pm (including networking drinks 6pm – 7pm)
Register for your place at CLD Standards Council Conference @ The Gathering.