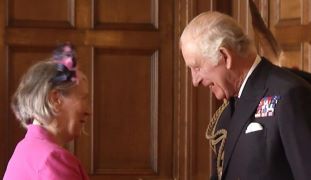 Sue Briggs, author and former CLD Strategic Development Officer with Aberdeenshire Council was made a Member of the British Empire (MBE) at Holyrood Palace recently by King Charles III. This award was given for her service to Community Learning and Development with her career in CLD spanning over 40 years including local, regional and national work.
Sue told us "I was very proud to hear the proclamation in the Palace of Holyrood House…."Mrs Susan Briggs for services to Community Learning and Development in the North of Scotland" as I stepped forward to receive my MBE. It was important to me that CLD was named in that arena. I accept that award on behalf of very many practitioners, managers, community leaders and organisations who embrace CLD as a path to tackling poverty and inequalities through learning and development in challenging settings."
Sue was delighted to be awarded this honour and firmly believes many more people in CLD deserve recognition for their work. She went on to say ""Community learning and development work has been really important to me in my career and receiving the honour, for me, is about more than myself – it's about everybody else who contributes to this field of work."
Congratulations Sue from all of us at the CLD Standards Council.
News article from the member Bulletin August 2023