A glorious, autumnal day and I find myself in Stirling University waiting impatiently.
Over the summer months I've also been waiting for the right time to write to you about developments within the CLD Standards Council and this long wait in a busy, student filled office presents the ideal opportunity to get typing.
The summer heatwave began with the draft Education (Scotland) Bill 2018 and a meeting with Mr John Swinney the Deputy First Minister of Scotland and Cabinet Secretary for Education and Skills. Following the decision not to create an Education Workforce Council that would have included the CLD Standards Council, this meeting was a welcome opportunity to highlight the professional learning needs of our Members and get us back on track to secure, strengthen and grow the CLD Standards Council in its own right.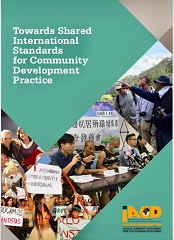 This resumed with the launch of the International Community Development Standards at the World Community Development Conference in Ireland.  We were proud to showcase our work on a global stage with representatives from many other countries sharing their desire to follow Scotland's lead and develop national CLD professional agencies and standards of their own.
We have continued to lead and build relationships across the United Kingdom and were pleased to meet with colleagues to discuss the Joint Education and Training Standards for CLD related courses. Did you know that because of this work your professional CLD qualification is also recognised across England, Ireland and Wales?
We were thrilled to win the bid to refresh the National Occupational Standards for Youth Work and look forward to working together with Members and partners to take this forward.


Members have also been busy over the summer months. The Working with Scotland's Communities Survey is open until 7 December and over 1000 people and organisations have already responded to the questionnaire that will help us gain better insight of the CLD workforce in Scotland. If you – or your organisation – have not yet completed this survey now is your chance!
For the third year running the CLD Standards Council have made available grants to support professional learning throughout the CLD regional networks, so contact your local representatives for more information and get involved.
The end of the long hot summer was marked by a wave of thanks and a fond farewell to our Chair of six years, Mr Ashley Pringle. As the process of recruiting a new Ministerial Chair begins Mr Mike Naulty (previously of Dundee University) and Mr Jim Sweeney (currently of Youthlink Scotland) have agreed to share this role on an interim basis. They were first called into action at the recent induction event for the new Council Members. We were delighted with the number of applications we received to join the CLD Standards Council committees and thank you to everyone who applied.
So, now the buzzer has gone and my time waiting at Stirling University is over. Thanks for keeping me company! Keep in touch and thank you for all your hard work and commitment.
#BecauseofCLD