CLDSC Member Meet-ups
Thanks to all those who joined in and shared their practice in using the CLD competences to challenge poverty at last week's Virtual Meet-up. Our next meet-up will take place at 1 pm on Friday 13 November when we will look at the role of CLD practitioners in tackling climate change. Register for the Meet up on Eventbrite.
You can suggest and select topics for the meet-ups, or volunteer to lead or present on this or future Meet-ups by joining our Slack group workspace (you can download the Slack app on a tablet or phone). We can chat, share information, files, and more. Increasing numbers of people are joining and chatting about CLD practice. If you'd like to join, email contact@cldstandardscouncil.org.uk and we'll send you the workspace invite!
---
Feedback from Network inputs
During September, we provided inputs to a range of network meetings and webinars hosted by Education Scotland. We spoke with Adult Learning, Adult Literacy & Numeracy practitioners to tell them about what the Standards Council has been doing, highlight some new resources and get their views on the benefits of membership. We also asked people to tell us if there were any particular reasons that they hadn't joined CLDSC – for most people who aren't members, it's on their To Do list!
Below are some of the benefits they identified of being a member of CLD Standards Council. If you'd like us to come along to your team or organisation to talk about registration, have a tour of i-develop or just find out a bit more about us, please get in touch.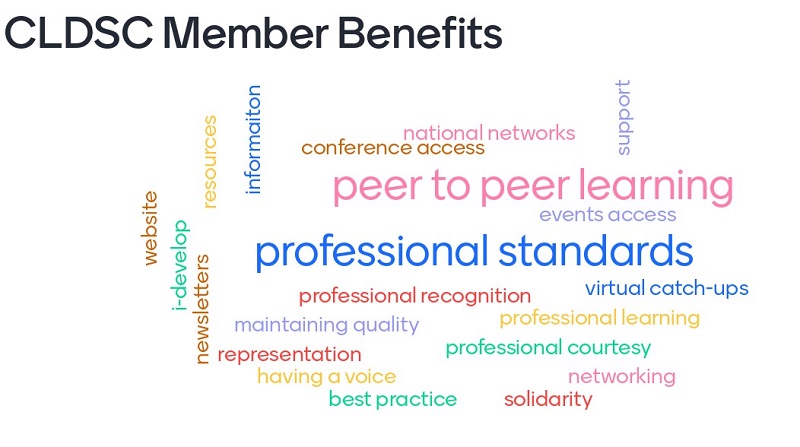 ---
Citizen Literacy App Test and Evaluation Opportunity
The Citizen Literacy project is developing an app and learning resources to support adult learners improve their reading and writing skills.
The app uses voice and handwriting recognition technologies for learner input and features virtual tutor voices to provide information and directions to learners. The final version of the app will be free to use, with no registration required, no adverts and no personal data recorded.
There is an opportunity to provide direct input into the design process through a test and evaluation exercise for the app.
You can find all the information and web links you need to participate in the testing and evaluation exercise on the Citizen Literacy web page. You will also find a user and feedback guide and options for providing your feedback, as well as evaluation copies of the Teacher Handbook and Student Workbook, and a link to the 'White Paper' that provides background information about adult literacy in the UK.
---
Feedback to the Social Renewal Advisory Board
Help shape a fairer recovery after coronavirus by submitting your ideas to the Social Renewal Advisory Board, which has been set up by the Scottish Government.
This is an invitation for you to tell the board what needs to change to bring about a Fairer Scotland in the future, based on your learning from the COVID pandemic.
Your ideas could focus on one of the themes discussed by the board: housing and place, work, income, public services, and attitudes and discrimination. Or on something else you think is important.
Any organisation should feel free to send in ideas. The Advisory Board would particularly like to hear from groups working with people with protected characteristics.
Further information is available on Communities Channel Scotland
---
Community-led Action research toolkit
The Scottish Community Development Centre and the Poverty Alliance have recently launched their Knowledge is Power community-led action research toolkit.
The toolkit provides a comprehensive and easy-to-access guide to community-led action research for community groups and projects.
The launch marks the next stage in their Knowledge is Power programme supporting local groups to plan and implement their action research projects. Currently affected by Covid-19 restrictions, it is hoped these projects will be able to get going fully by the turn of the year. Check out the resource and learn more at www.knowledgeispower.scot.
---
National Youth Work Conference –
Youth Work 2020: Resilient, resourceful and reimagined
Online Event: Tuesday 3rd and Wednesday 4th November 2020, 10am to 2.30pm.
The National Youth Work Conference will showcase the strength and adaptability of the sector, share practice from across Scotland – and internationally – and explore the future direction of youth work.
This event is for member organisations of YouthLink Scotland, but is also open to anyone who has an interest in making the youth work sector in Scotland ever more resilient, growing our resources and working towards a positive future for young people.
More information including programme for the event and online booking available on the YouthLink website.