Happy Retirement, Colin Ross!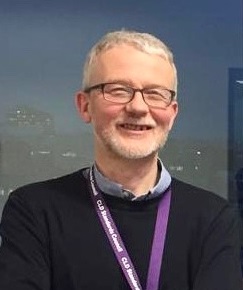 After over 40 years of service to the CLD sector, our colleague, Colin, retires this week. Colin has had a significant impact on the quality and visibility of community learning and development throughout his career. Through his commitment to education and social justice, he has not only improved the quality of lives of those living in disadvantaged communities in Scotland; Colin's influence can be felt across the UK and internationally through his voluntary work with the IACD.

He is known by the CLDSC staff team as 'The Wise Owl' and we've been thinking about why that is. According to that well known education website, Wikipedia, in Greece, the owl is often used as a symbol of knowledge, wisdom, prudence, perspicacity and erudition (we needed the dictionary for a couple of those!). These words sum up Colin's qualities and approach. Colin is very self-effacing and doesn't tend to claim credit or emphasise his own role. That's where we come in! We want to say a big thank you to Colin for his Commitment, Leadership and Direction. Have a long, happy and well-deserved retirement, Colin!
---
REMINDER – Project funding for work with refugees – information session for CLDSC members
Tuesday 4th May, 4pm to 5.30pm
£2.8 million is available from the New Scots Refugee Integration Delivery Project for new projects spreading documented good practices and supporting innovation related to the New Scots Refugee Integration Strategy. A number of the funding topics have a clear CLD focus, relating particularly to ESOL and to community development. There is scope to apply for grants from below £5,000 up to £115,000. Organisations including Community Groups, Local Authorities, and Social Enterprises can apply. The closing date for applications is 22nd May; for more information and details of how to apply, see the Scottish Government website.
Sign up for an information session with Jewels Lang, Communities Manager at the Scottish Refugee Council, on Tuesday 4th May, 4pm to 5.30pm. Sign up for the session on Eventbrite.
---
Manifesto Watch
With polling day in the Scottish Parliament Election approaching, good news from a CLDSC perspective is strong support for CLD in two of the main parties' manifestos:
"We recognise that funding has been an issue at national and local level and, as well as increasing investment, we will review the statutory basis for community learning and development in order to strengthen provision and provide greater financial protection." (SNP)
"While cuts have decimated [the CLD sector] with a considerable loss of expertise; the sector has been at the forefront of protecting communities during the height of the Covid-19 restrictions. In the aftermath of Covid-19, Scottish Labour believes that the sector has a vital role in supporting learning, development, training and support." (Scottish Labour)
There are points of positive interest for CLD in the manifestos of all the main parties, in particular about the need to improve local democracy and strengthen communities. You can check them out at the links below.
Scottish Conservatives
Scottish Green Party
Scottish Labour Party
Scottish Liberal Democrats
SNP
SCVO have brought together information on and links to many of the manifestos being promoted by 3rd sector organisations: Holyrood 2021: what the voluntary sector wants – TFN.
---
Covid-19 Recovery Guidance for CLD Sector – Bookmark this page
Education Scotland has created a new page on the National Improvement Hub to provide a single point of access COVID-19 recovery guidance and support for the CLD Sector. The page includes links to the most up to date Government guidance for the sector and the key national advice and support from national bodies within the sector. It also includes a range of further information, reading, case studies and links related to the roles of CLD during the pandemic and in supporting communities to recover and rebuild. This page will be updated as the advice develops so it will be worth checking regularly.
---
CLD Delivery Digital Survey
The Scottish Government recently announced a £0.5m investment in the community learning and development (CLD) workforce for the year 2021-22. This is primarily to support increased workforce skills and capacity to deliver digital CLD provision. The Scottish Government have asked Education Scotland's Her Majesty's Inspectorate of Education (HMIE) to provide advice to ensure that this investment is used efficiently and effectively to support the CLD workforce in delivering high quality and effective digital approaches to CLD delivery. In particular, they are interested in:
Organisational or system-wide barriers to developing the digital CLD offer and how these might be resolved;
Priorities that need to be addressed, such as workforce development or infrastructure; and
Partnership working opportunities to achieve the best results.
HMIE will gather information regarding approaches to the digital delivery of CLD through a survey of CLD practitioners and managers. In addition, professional dialogue with focus groups of staff and participants across the sector will explore this further, including what is working well.
The CLD Delivery Digital Survey is now open until midnight on Wednesday 5th May 2021.
---
Education Scotland STEM Grants Programme 2021-23 – now open for applications from the CLD sector
£400,000 is currently available through the national STEM Grants Programme to fund and support training and professional learning for learning practitioners involved in all aspects of STEM-related learning. Projects that target CLD practitioners have been identified as a priority area for this round of grants so this is a great opportunity to apply for support. Local bids of up to £3k per annum or larger partnership bids of up to £10k per annum will be considered. If you want to know more or discuss an idea for an application, then come along to one of the grant information drop-ins or speak to your Education Scotland contact. The closing date for applications is May 24th 2021.
---
What Scotland Learned seminar 25 May 2021, 4-5pm
At the start of the year Education Scotland produced What Scotland Learned 100 stories from lockdown showcasing examples from across Scotland including lots of CLD practice! There have been a series of seminars and the next one on the 25th May will focus on the theme of community as explored in the accompanying professional learning paper What Scotland Learned – building back better. Come along and hear about the work of kindness going on in North Ayrshire and the importance of community. North Ayrshire's Director of Education and Communities will explore these themes through dialogue with a young person This seminar will be of interest to CLD practitioners in all practice areas. Register for the What Scotland Learned seminar on Eventbrite.
---
Digitally Kind Carnegie UK Report
Digitally Kind is a new resource from the Carnegie UK Trust, devised to help bridge the gaps between digital policy, process and practice to improve outcomes, and introducing kindness as a value to underpin an organisational approach.
Based on workshops with over 40 practitioners and frontline staff, the report has been designed as a starting point to support organisations open up conversations around their use of digital in delivering services. Digitally Kind explores a range of technical, social and cultural considerations around the use of tech when working with individuals including: What existing internal policies and procedures impact the way staff interact with digital? Is new technology the default solution when issues arise in service delivery? Are 'free' technologies impact assessed in the same way as paid-for services?
---
College Development Network Awards
The College Awards are now open for entries! The Awards recognise the talent, innovation and achievement demonstrated by our colleges, their staff and their learners. This year, there is a new Community Learning award which recognises and celebrates the innovative and outstanding work of colleges and their community partners in the delivery of Community Based Learning opportunities.
The deadline for entries is Friday 2 July at 5pm, and the winners will be announced at the awards ceremony on Thursday 9 December. @ColDevNet #CollegeAwards