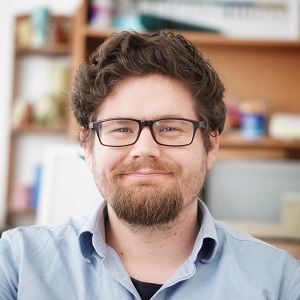 Our latest #becauseofCLD practitioner spotlight is Rory Brown, who works within a Housing Association with a remit on both Community and Digital Inclusion.
He also sits on the Registration Committee of the CLD Standards Council.
Twitter: @justroryb
What's your current role/title?
My current role is as a Community Inclusion Assistant for Govan Housing Association where I support a wide range of projects through our Community Hub programme including social groups, food provision and education and training. I also have a direct remit for Digital Inclusion for the association where we offer 1 to 1 digital learning sessions for tenants, provide free computer, wifi and printer access to the local community and organise and run basic IT classes.
Where did you begin your #becauseofCLD journey?
I used to tell myself that I fell into a job in CLD. Looking back though that was not the case and the more practitioners I spoke to, the more I realised my journey was similar to many others.
At school I wanted to be an architect but outside of school my parents had encouraged me for years to become involved in community groups. I attended the Scouts and Army Cadets, I volunteered sporadically and was in various youth groups. After school I tried several times to undertake a degree in architecture, art or design and technology but nothing seemed to fit.
The real transformative experience for me came from being involved in the Caley Youth project in Stevenston; a multi-media youth centre that was the epicentre of creative young people, passionate staff, movie geeks, rockers and tech wizards. I owe much of my career to date to the staff there, in particular the centre manager Gordon Cowan who gave me my first job in youth work, mentored me (alongside many other youth workers) and encouraged me to pursue a degree in CLD.
What are the key CLD values and principles that have been your anchor in your various posts and/or roles?
I think there are many jobs in different sectors where people can work in a silo and be successful. However, within CLD I have always fundamentally believed that working in partnership means we achieve better outcomes, not only with partner organisations who can inspire us, share their resources and challenge our approaches and assumptions but also when working in partnership with individuals and community groups to co-design programs and work in a person-centered, community led way. In my experience, the best CLD workers are those who bring people together and work with them towards a common goal.
If you had to pick one of the Ethics, which would it be and why?
They all speak to me in different ways, but if I were to pick one ethic I would say "Empowerment" stands out the most. CLD is fundamentally the process of trying to do yourself out of a job. I know in a lot of practical ways that is very true, funding streams means that jobs are often for a fixed period so thinking about an exit strategy and sustainability of your project is important. It is more than that though.
I enjoy seeing people flourish when supported, I love it when groups take the reins and drive their own agendas and achieve things they never thought they could. The process of building positive, meaningful relationships with people and working with them, not FOR them is the whole reason I enjoy this sort of work.
How do you make time for professional learning and development and who supports you in this?
I try to fit professional learning in wherever I can; at work, at home, by volunteering, by reading, by watching the occasional documentary or speaking to colleagues in different projects.
Professional learning comes from lots of different places. I am lucky enough to have an incredibly supportive employer who allows me time to attend CLDSC meetings, who are supporting me through a Masters in Social Enterprise and provides me with opportunities to identify my own training needs whilst also keeping me up to date with organisational wide training requirements.
At home I have a very supportive wife who is constantly forgiving me for reading articles when we should be relaxing at the weekend. Although I read for pleasure, I try to make time every week to read papers/articles and books related to my field.
Describe CLD in one word.
"Fulfilling"
I have friends who earn twice as much as me, who work standard office hours and are not nearly as happy going into work each morning. Having a job where I can be flexible, think creatively and make even a small positive impact on the lives of communities sets this apart from other careers. No day is ever the same, no person is ever the same.
What is the best thing that has happened this month?
For me it is the small, informal moments that mean the most, in particular conversations with people. I was helping one of our community centre users re-bandage her arm (she had hurt it in an accident and the dressing had come loose) and we had a really in-depth chat about her life, how she ended up in our local area and what she wanted to do in the future.
I came away feeling re-energized that we were on the right path together and that I understood more about what she wanted to get from the process.
If you would like to be in the spotlight – get in touch !