Virtual Members Meet Up: Mental Health and Wellbeing Strategy Consultation – 1st September 2022, 4pm
The next Virtual Members Meet Up will take place on Thursday, 1st September, 4pm-5pm. This month we are focusing on the Scottish Government's Mental Health and Wellbeing Strategy consultation.
The Strategy will guide the work that the Scottish Government and partners will do to improve mental health and wellbeing in Scotland. This will include an overall shared vision, a set of outcomes, and how these will be achieved to improve people's mental health and wellbeing. It will also describe how we impact will be measured. Scottish Government want to make sure that the Strategy does the right things to improve mental health and wellbeing for people in Scotland. They also want your views on whether the draft overall vision, and our draft outcomes, are the right ones.
We want to gather your voice to respond to some key areas of the consultation. It is crucial that we explore how CLD Standards Council members can input and support the development of the strategy, for the benefit of CLD practitioners and of the communities and learners we work with.

You can sign up for the session on the September Virtual Members Meet Up EventBrite page. 
---
CLD Changes Lives!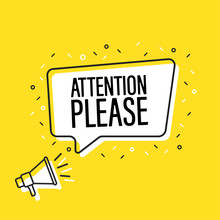 You have it in your power to raise the profile of the CLD Sector!
As we all know, CLD definitely does change lives and at CLDSC we are keen to showcase some of the amazing work that goes on in the CLD Sector.
In last week's bulletin we highlighted some fabulous work from Dundee City Council, taken from their CLD Review report 2020–2022. But we know there's more happening across the country too.
What have the communities you work with done? What was the feedback from activities you engaged with them in? What was the impact?
Let's share the stories as a celebration of the CLD Sector. We want to hear all about it! We need you to send us links, photos, stories, quotes, and really tell the tale of how CLD Changes Lives!
Do it now! Send information to contact@cldstandardscouncil.org.uk. Someone may just enjoy that wee 5 minutes of fame! 
---
DIGI KEN CLD? How digital looks within the sector
Education Scotland would like to invite you to join them in a conversation around How Digital looks within the CLD Sector on the 25th, August at 4pm. They will be exploring how digital can enhance CLD Practice, while discussing practical solutions to the challenges that we are facing. With inputs from several organisations that will be sharing their experience of using digital approaches, to the introduction of the Digital CLD award, this promises to be a session full of creative dialogue and will highlight How Digital Can Improve the CLD Sector.
Find out more and sign up for DIGI Ken CLD? How digital looks within the sector on Eventbrite. 
---
IACD Practice Insights Magazine – Call for Abstracts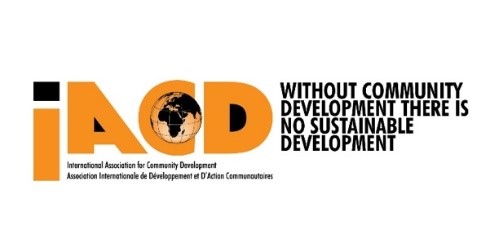 IACD sees community development as a necessary and important strategy for positive strengthening of individuals and systems, and want Practice Insights to highlight how the challenges of the climate crisis are compelling innovation, encouragement, opportunity, and resilience. Suggested topics include the role of community development in:
Local responses to supporting communities impacted by climate change due to acute disasters and/or chronic stress
Re-shaping of public services in response to community needs and weaknesses in systems highlighted by climate change
The role of young people as caretakers, community organizers, and advocates in climate change mitigation and adaptation
Innovations in technology for the purposes of addressing climate change at the community level
Creative innovations to climate protection, social connection, and communication
Coordination with public health and/or medical health responses in the face of acute emergencies related to climate change-related weather events
If you have experience of working with communities on issues that relate to climate change, why not write about it and send an abstract describing your article in 500 words or less by 15 September, 2022 to Paul Lachapelle at: paul.lachapelle@montana.edu
Don't worry if you are not experienced in writing for publication, IACD will provide supportive comments and suggestions on your proposal ("abstract") and your article. 
---
New Scots Refugee Integration Strategy – Implementation and Impact Survey
A short online survey that was developed to explore the implementation and impact of the New Scots Refugee Integration strategy has been extended and now ends on Friday, 12th August 2022. Practitioners are invited to complete this survey if they or their organisation have been involved in activities which support the integration of refugees and people seeking asylum in some way.
This will be the last opportunity to fill out the survey. Organisers want to gather data from as many practitioners as possible to ensure a wide range of perspectives are represented in the findings.
The survey will take 10-15 minutes to complete and all responses will be anonymised.
If you would like to respond but you cannot do so by Friday, 12th of August, please email: Asiya.Hamid@scotcen.org.uk.
---
Challenge Poverty Week – 3rd-9th October 2022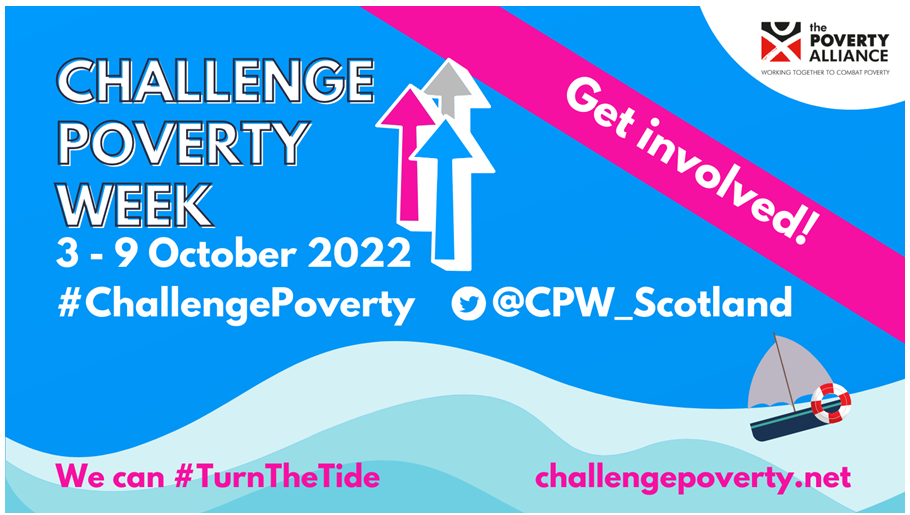 Times are hard, and getting harder, for hundreds of thousands of people across the country. A rising flood of living costs is pulling more and more people towards poverty. But together, during #ChallengePovertyWeek2022, we can start to #TurnTheTide on the injustice of poverty in Scotland.

Getting involved is easy and fun! To help your organisation plan how they will get involved, the Poverty Alliance are running a Get Involved meeting on 1 September 2022 at 2pm, designed to showcase the different ways your organisation can take part in the week, and to help you plan your activities.
Find our more information about Challenge Poverty Week and sign up to reserve your place! If you have any further questions, email suzi.murning@povertyalliance.org.
---
Women's Experience of Poverty
The Poverty Alliance and the Scottish Women's Budget Group are looking to speak to women living on low-incomes about the impacts of the cost-of-living crisis.
They are interested in speaking to a range of women across Scotland including disabled women, women from minority ethnic communities, women with caring responsibilities, single parents and single women.
People taking part will receive vouchers for their participation. Please share with anyone you think might be interested!
For more information, please email laura.robertson@povertyalliance.org or call on 07867 818239.
---
SQA Outlines Support to Young People
On Tuesday 9 August, thousands of young people across Scotland received their results for their Nationals, Highers, Advanced Highers, National Progression Awards, Skills for Work Awards, National Certificates and Awards. SQA has published the 2022 results and headline figures.
SQA's Appeals 2022 service is free of charge.
If learners have a query about their certificate, they can call SQA's Candidate Advice Line on: 0345 279 1000.
Further information can be obtained from:
Skills Development Scotland's Results Helpline: 0808 100 8000
UCAS: 0371 468 0468 / UCAS Clearing resources
And don't forget to check out the #NoWrongPath Campaign which demonstrates that many people in interesting job roles across Scotland may not have taken a straight, obvious or traditional path to get there – that there is #NoWrongPath.
---